5 Sleek New Motor Yachts For 2022
---
If you're in the market for a luxury yacht in 2022, here are five great new options to consider. These boats offer suave, refined aesthetics with sporty handling and performance plus stately accommodations for your passengers, whether they're friends or family.
Prestige X-Line X60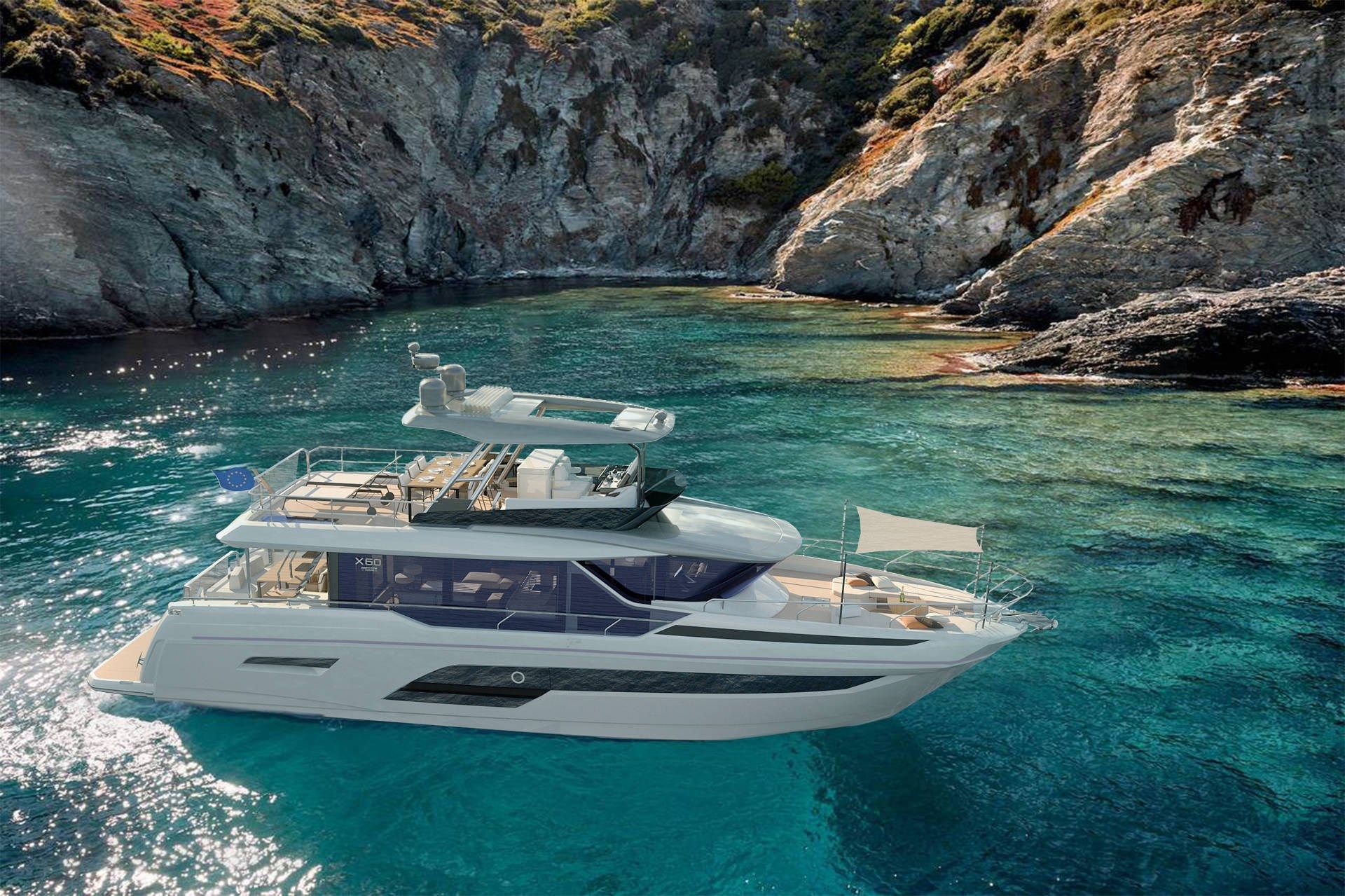 Above: A 2022 Prestige X60. Photo via Ancasta International Boat Sales and Prestige Yachts.
If you're looking for a sedan-style sports cruiser that qualifies as a full blown yacht too, the Prestige X60 will likely be on your must-see list. This new for 2022 model is the second X-line model (joining its older sibling the X70) and follows the core concepts of open spaces, natural light, and bringing the great outdoors inside as well as outside. To that end the cabin opens up to join the cockpit via a huge sliding glass door, the saloon is surrounded 360-degrees with windows, and the flybridge hard-top has an opening sunroof. There are three private staterooms belowdecks headlined by a full-beam master, plus an option for a crew's quarters, and outdoors social areas in the cockpit, on the bow, and atop the flybridge.
See Prestige X-Line X60 boats for sale on YachtWorld right now.
Riva 68 Diablo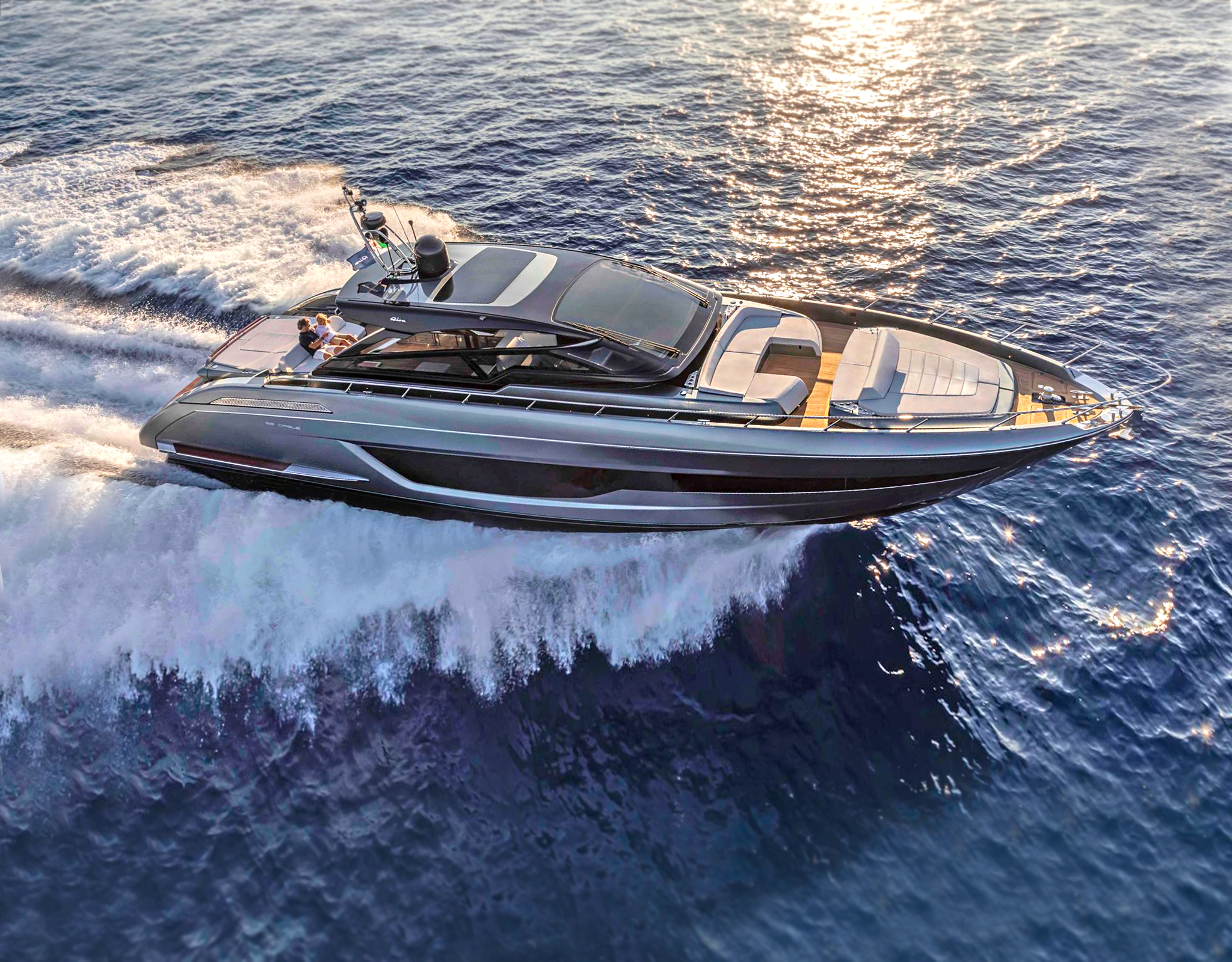 Above: A 2022 Riva 68 Diable. Photo via Nautica Casarola Group and Riva Yachts.
If you appreciate Italian design and styling, the Riva 68 Diablo will get your blood pumping. This uber-sleek creation comes from Mauro Micheli (the founder of Officina Italiana Design), Sergio Bereta, and the Ferretti Group engineering team. And its performance should match its looks, because with V12 MAN diesel inboards the projected top-end is 37 knots with standard power and 40 knots with the upgrade option. With hull number one launched in the summer of 2021 and showcased at the 2021 Cannes Yacht Festival, the 68 Diablo features massive bow and stern relaxation zones with both seating and sunpads fore and aft which should attract a number of buyers in 2022. Inside the aft sunpad there's a garage sized for a Williams Sport Jet 345 tender. Belowdecks accommodations include three private cabins all with their own heads, arranged around an open galley and dinette.
See Riva 68 Diable Yachts for sale on YachtWorld.
Riviera 645 SUV
Above: A 2022 Riviera 645 SUV for sale on YachtWorld by OneWater Yacht Group in Annapolis, Maryland. Photo by OneWater Yacht Group. 
The Riviera 645 SUV premiered in the U.S. at the 2021 Fort Lauderdale International Boat Show, bringing new heft to the single-level cruiser market — literally. There are few boats of this design hitting this size, and the 645 SUVs strongest suit beyond sheer space may be its customization options. It's available in classic or modern interior designs, with three or four stateroom layouts, and two different style bow seating and entertainment areas. As one might expect from a boat of this class, the level of standard amenities is rather extensive and includes such big-ticket items as a hydraulic swim platform capable of supporting a tender, a cockpit galley with a grill and refrigerator/freezer, and a full galley with a bar in the saloon. Unexpected is the transom aquarium-style livewell, making the cockpit suitable for angling as well as lounging.
See Riviera 645 SUV yachts for sale now on YachtWorld.
Galeon 400 Fly
The Galeon 400 Fly made its FLIBS debut in Fort Lauderdale in October 2021 just in time for buyers looking for a new sleek family yacht for the 2022 season. The highlight of this boat is what the builder calls "beach mode" – innovative side balconies on either side of the cockpit that fold out to create massive amounts of room for onboard "luxuriation". The 400 Fly is actually one of the smallest models the builder has offered their beach mode on to-date. She is designed to be easy to handle and maneuverable for the average family boater and provides great stability on the water. The interior is impressive on this yacht with floor-to-ceiling windows that lower electrically, allowing guests to indulge in soothing sea breezes. On the added flybridge, captains can enjoys unimpeded lines of sight while guests can savor an open air ride while underway. Below deck are two full-sized cabins, including an aft owner's cabin master and two separate heads. All the cabins are of full standing height and offer additional storage space, ideal for longer cruises.
Greenline 58 Fly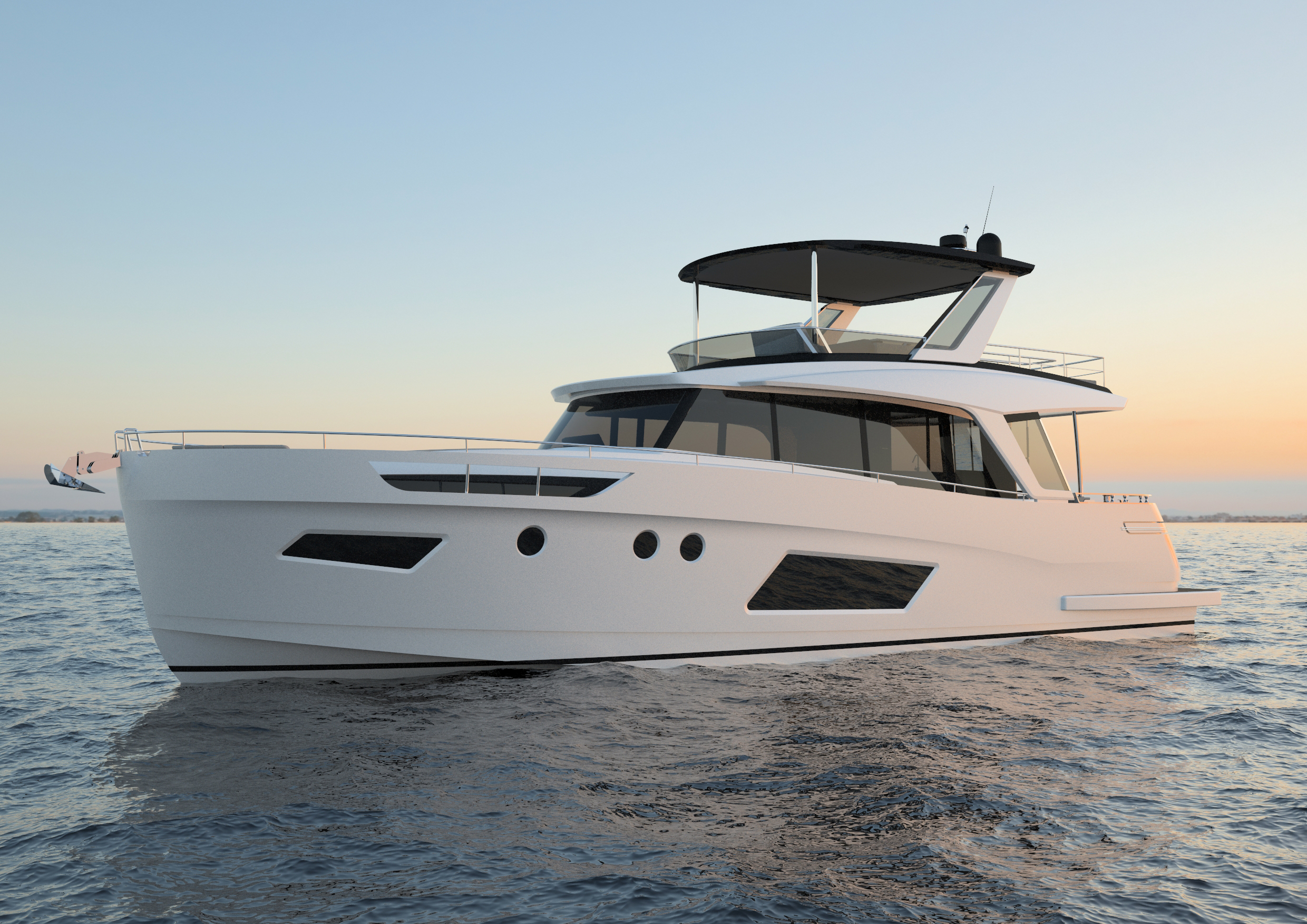 Above: Greenline 58 Fly Yacht. Image by Greenline Yachts.
As of late 2021 the Greenline 2022 58 Fly hadn't yet been completed, so some details are still TBA and there are no listing for the specific model just yet. However, this cabin cruiser will be of great interest to a segment of the boating population, since it will come with Greenline's next-generation hybrid electric H-Drive system. As pioneers in hybrid propulsion, Greenline has been helping to push innovation in e-propulsion with their boats and this one is poised to continue that tradition. The propulsion system incorporates an electric motor with a diesel engine, battery bank, solar panels on the roof, and an energy management system, to deliver silent, emission-free cruising at slow speeds for limited ranges. Yet the boat also offers traditional performance when running via diesel power. The 58 Fly's exterior fluid lines and soft curves offer a fresh, sporty edge while taking cues from Greenline Yachts iconic heritage look.
Greenline expects to complete the 58 Fly by the summer of 2022, at which time it will become the second-largest offering in their fleet.
Note: this model is so new listings aren't yet available; see all Greenline Yachts for sale on YachtWorld now.
Related
---