A New Wave of Design for Superyacht Interiors
---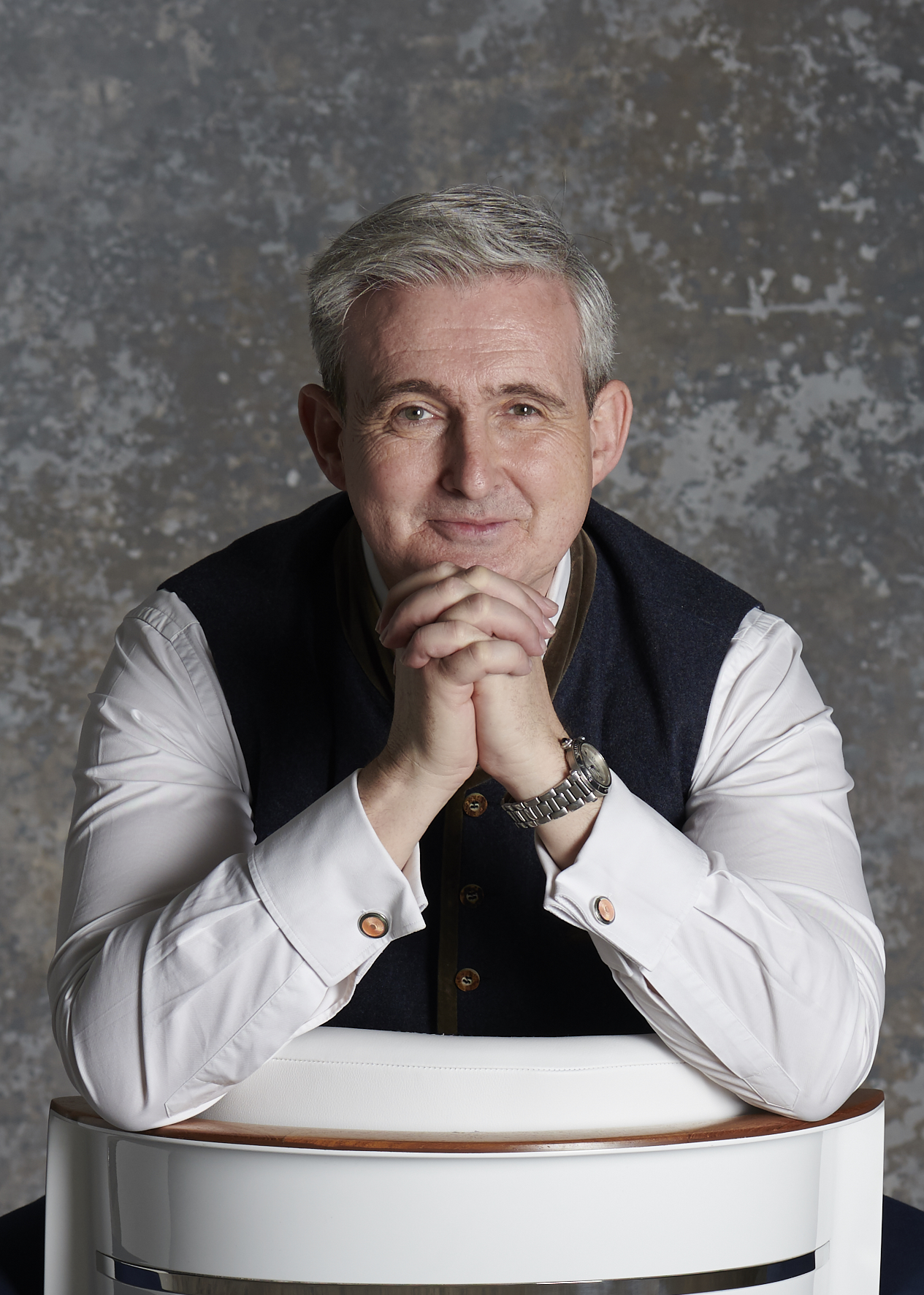 Tim Gosling is a London-based interior designer at the forefront of superyacht design.
A recent conversation with London- based interior designer Tim Gosling – who works at the frontier of superyacht design – underscores how the marine industry has managed to replicate residential properties with an increasingly superior level of innovation. The coin has flipped, so-to-speak, as residential homes are now aspiring to celebrate superyacht interiors characterized by a fluid style and elegant use of curved lines, luxurious fabrics and organic shapes. The sinuous grace of superyacht interiors is now homogenous with the superstructure of the boat.
Gosling has designed for the most prestigious superyachts in the world and recently worked on the belle-of-the bay "Lady-S" which contains an entire IMAX theatre. He was once the design director for Linely, but left to pursue 'Gosling' – his venture into interior design and furniture. It was a natural decision for him to pivot into yacht interiors, a tightrope where only the highly-skilled tread. Eglomise, gilding, inlay, veneers and marquetry and pen-work carved into materials to provide a decorative finish are typical to Goslings signature look. The exceptional level of craftsmanship in his furniture is palpable.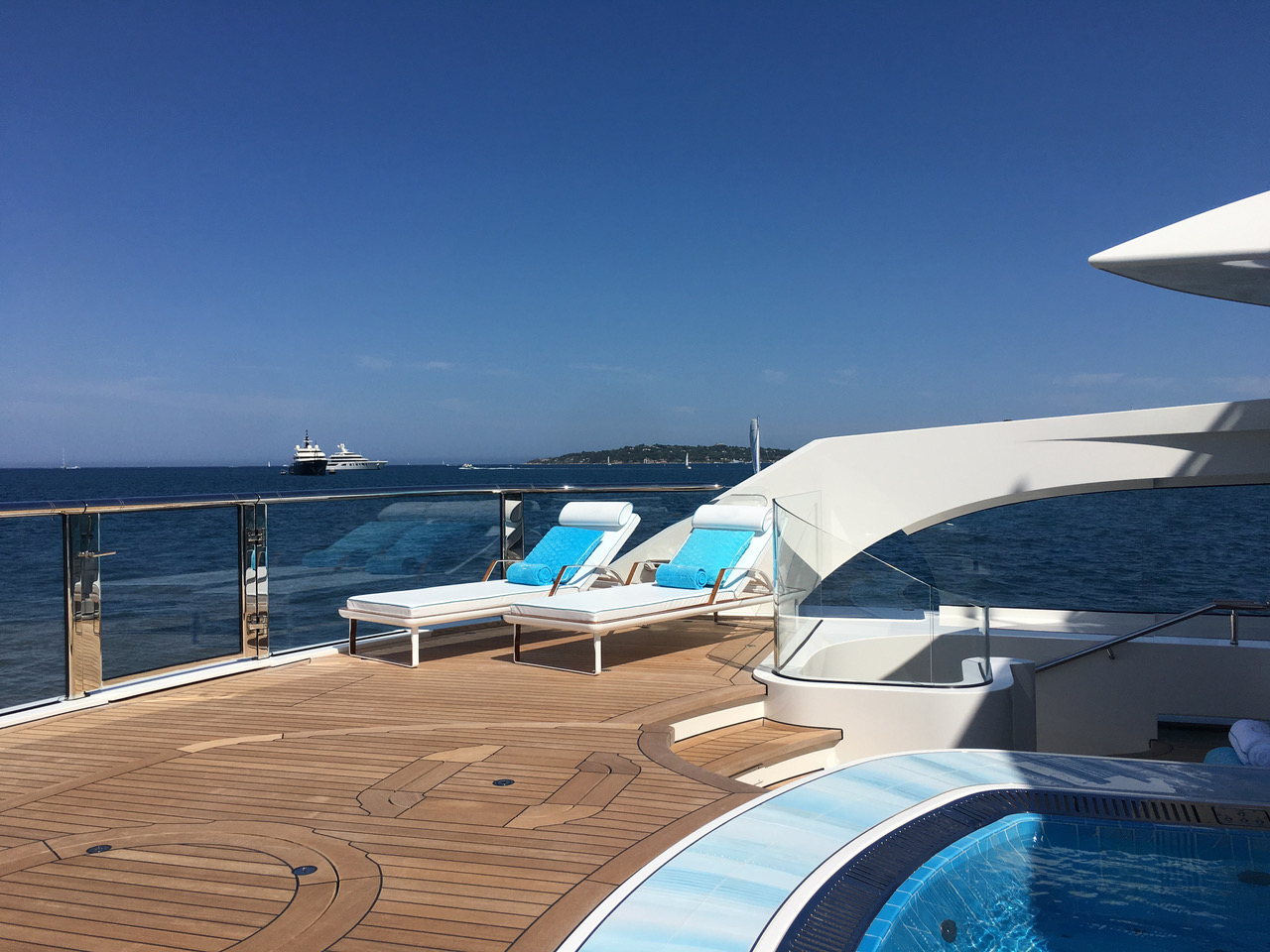 Eglomise, gilding, inlay, veneers and marquetry and pen-work carved into materials to provide a decorative finish are typical to Goslings signature look.
Embracing Innovation: Breaking The Mold
Astronomical budgets facilitate the most inconceivable designs becoming a reality, allowing designers to experiment and break out of the mold. Superyacht designers embrace innovation and have a different mindset simply because every part of the process is entirely bespoke. The inherent curved structure of the boat requires a degree of reinterpretation at nearly every juncture. Designing with curved lines is a challenge, where unique shapes are born. All traditional elements of a home can be stripped back to allow the crew freedom to move around freely.
Owners of superyachts have a modern spirit and are the vanguard of modernism, daring to tread where others don't. The UHNWI's (ultra-high-net-wealth individuals) are not typically interested in showing an ostentatious display of wealth; instead, they want to create something truly unique. They often see the yacht as a new way of living, therefore designing the vessel from scratch is akin to designing a new way of life onboard. Here there is no status-quo – which is liberating. UHNWI's tend to have an entrepreneurial mindset and following the herd here doesn't appeal.
Onboard Challenges Inspire Broader Design Shifts
Superyacht design is also an intellectual path, where size, scale and dimension require more profound levels of consideration. Bespoke furniture works harder to suit the scale of the room, rather than compromising the design. Goslings marine collection has successfully made waves in a traditional industry. Although initially conceived for superyachts, clients have requested the furniture for their gardens, swimming pools and spas.
Gosling curates' bespoke items for superyacht owners and no request is too wild or wacky. Optical illusion and trickery are instrumental when designing yachts due to the obscure and limited space. With an increasing number of young UHNWI's, most clients are aged between forty and fifty. Gosling comments:
"Most owners are adventure seekers who like to stay fit. They enjoy thrashing around on their toys. One client requested an indoor tennis court below-board fed up of riding his helicopter offshore."
Gosling explains that mapping out how the boat will be used early is essential, considering the owner's lifestyle. Beyond matter, the design needs to reflect the owner's ideology. He worked alongside the F1 team to pioneer carbon-fiber furniture for some of the most beautiful yachts in the world. The carbon molds are in the incubator, and the high temperature and pressure change the molecular structure. The carbon atoms are bonded together into crystals which are aligned parallel to produce the carbon-fibre.
The technical ability with carbon fiber is remarkable; the process is as precise as neurology. The benefits of using carbon fiber include high stiffness, high tensile strength, low weight, high chemical resistance, high-temperature tolerance and low thermal expansion. Gosling trademarks his furniture with a carbon fiber pinstripe and a teak inlay.
Gosling trademarks his furniture with carbon fiber frames, teak trim and stainless steel inlay as seen on this lounge tub chair from the Gosling's Marine Collection.
Mr. Gosling finds that the most motivating part of the design process is when a client stands on the boat to admire the result and says, 'In the next yacht," he comments further:
"Each time a yacht has completed, I feel emotional, it feels like I have given birth creatively. The design process is addictive. As soon as a project finishes, clients preempt they are going to miss the creative experience, and they ask, 'What shall we do with the next boat?'"
Cultural Differences Can Dictate Design
Yacht interiors are just as important as the yacht itself. On a voyage, functional design is mission-critical in developing the people and a real sense of camaraderie onboard. Cultural sensitivities dramatically influence the design on the boat. There is a notable difference between how the Northern and Southern hemisphere chooses to spend their leisure time.
For example, historically speaking, Asian superyacht owners have tended to avoid spending as much time outside of the yacht as within. In contrast, Europeans and Americans tend to spend more time outside on deck, exposed to the elements. These are the cultural preferences and traditions that must be carefully considered when designing yacht interiors. Of course, there are no standards and any owner from any part of the world may have very specific visions for every aspect of the vessel.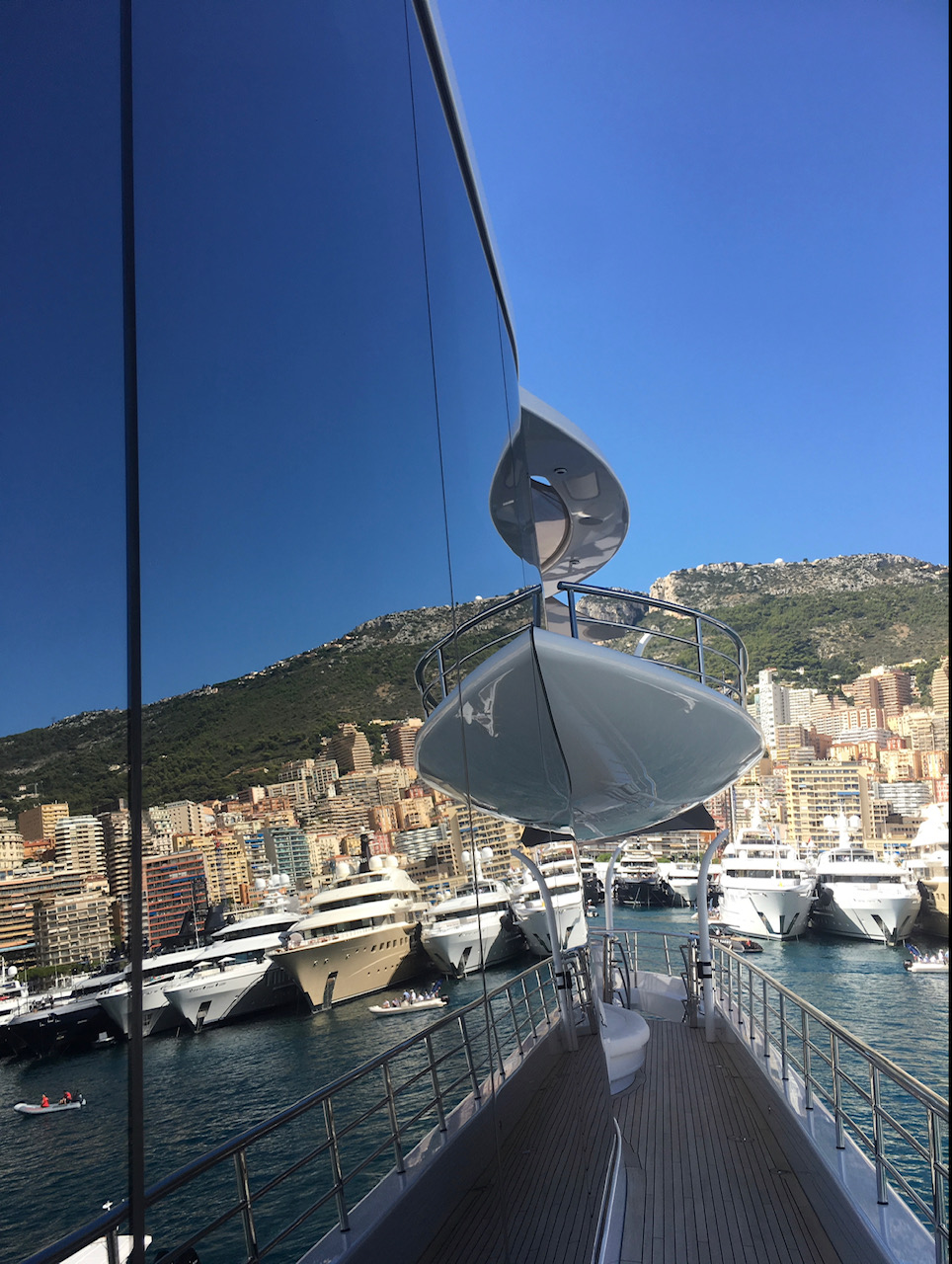 The use of glass in superyacht design provides the crew with visual freedom.
Glass And Light: Key Themes
Exploring the intersection between glass and light is a key theme in yacht design right now. Advances in glass techniques have enabled designers to bend reality to suit the owner's requirements. Gosling recently represented Boat International, Monaco on their judging panel. One yacht which left an impression on him was a glass panel black on the outside and clear on the inside to enable the owner to walk around the boat stark naked.
Another boat played with the refraction of glass, featuring circular flat windows were designed with a double convex curve to prevent light from the outside, resulting in a deep sense of serenity and calmness on board. These nuances in design can transform the mood of a room. Glass provides a crew with the visual freedom they crave on board. After all, we only experience what we can see. The marine design sphere is an exclusive bubble that will not burst anytime soon.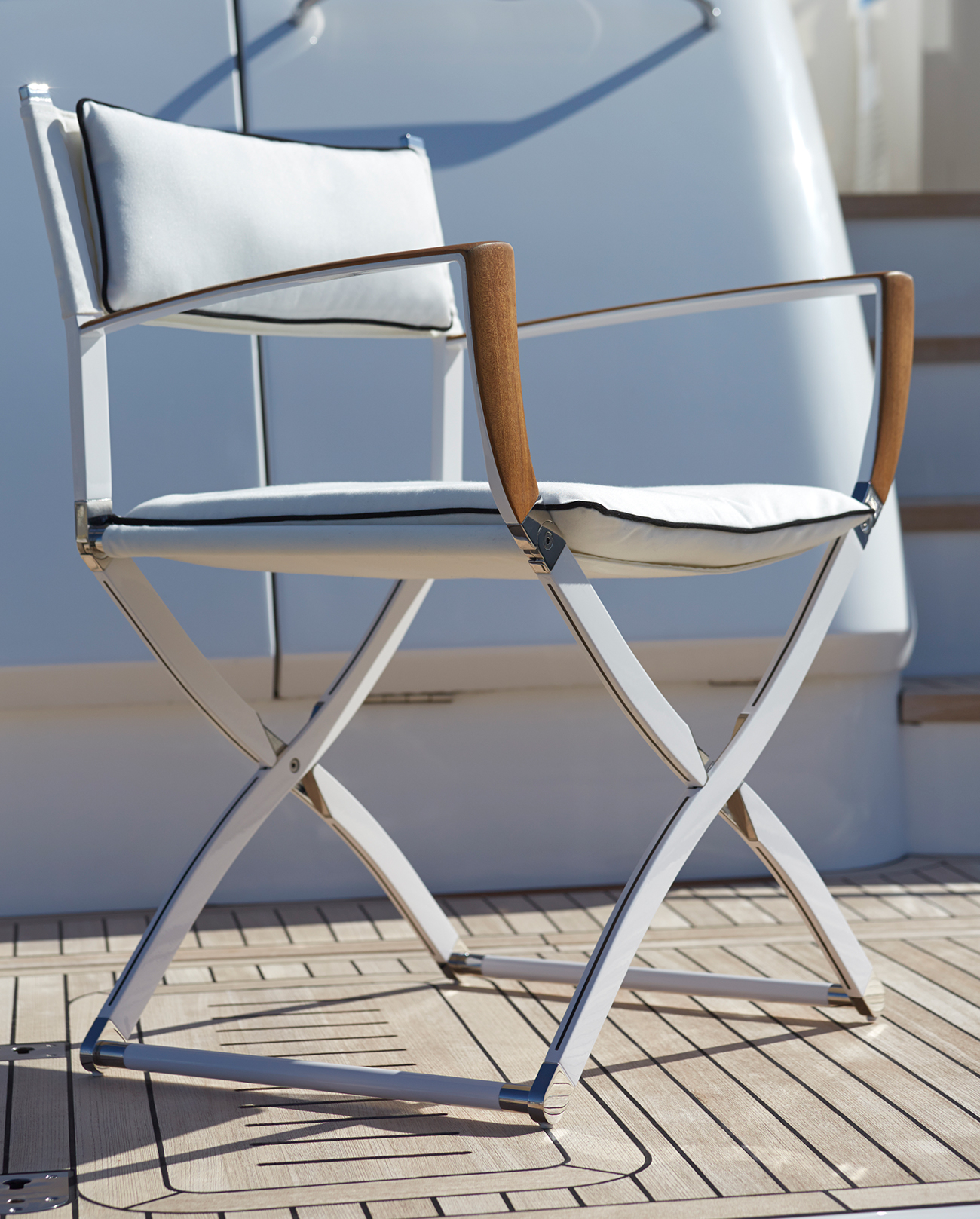 The stylish yet simple Director's Folding Chair from Gosling Marine features premium cushions and a carbon fiber chair frame with teak trim on the arms.
New Meets Old: Carbon Fiber And Teak
The Gosling Marine Collection combines long-standing design standards with modern innovations. Through the use of his trademark white carbon fiber along with the incorporation of traditional teak and stainless steel, he aims to provide the most durable deck furniture on the market. Conventional cabinet making techniques are fused with state-of-the-art engineering to push the limits of carbon fiber's use. With its unique strength to weight ratio, resistance to corrosion and low maintenance aftercare, carbon fiber has become the ideal material for marine furniture. For those that are interested, Gosling's collection prices start from $15,300 and the lead time from the deposit is 25 weeks.
Related
---