Bling-Bling: Dive Inside A Luxury Superyacht Treasure Trove
---
Resplendent Superyacht Design 
Walking through a luxury superyacht can feel akin to exploring Aladdin's cave, filled with a vast array of priceless art, expensive antiquities and rare masterpieces made entirely bespoke for the yacht owner. But crafting such opulent features and integrating them onboard a yacht is inherently challenging due to the irregular design shapes and structure of a vessel, coupled with the constant movement of the boat due to the natural elements outside. High-end marine design continues to demonstrate a superior level of innovation in this realm. Yacht owners have a propensity to take bold decisions, and an appetite to break out of the mold. Not to mention a budget that can satisfy trial and error as part of the design process. Selecting the finest materials and the world's most talented designers means that superyachts are not an 'ordinary' place to be. On board there is a sense of being part of an individual's story.
Nature inspired design is a common theme aboard superyachts. Aquatic design is often preferred, congruent with the environment. We have cherry-picked some of the finest design features in the yacht world that make living on board a superyacht special.
Bling-bling. Rare masterpieces made entirely bespoke for the yacht owner. Images credit: various sources (please see individual sources below).
1. Swarovski Seahorse Sculpture
This playful aquatic themed sculpture was curated by Patrick Knowles for the private owner of an ISA63 superyacht. The sculpture is encrusted with Swarovski crystals that dazzle. Each seahorse represents one of the owner's family members, each is a different color. The symbolic sculpture is the ultimate heirloom, rich in uniqueness and sentimentality.
Patrick Knowles delicately curated the sculpture by hand- using the same intricate detail applied to crown-work. This unique and playful sculpture is designed with integrity, and will be appreciated for years to come.
Seahorse sculpture designed by Patrick Knowles. Image credit: Kristina Strobel
2. A Hand Blown Crystal Bulb Chandelier
On board superyacht Luminosity this chandelier takes center stage. It echoes a moving sea creature, as it waves in outside the wind, reflecting the natural surrounding onto its undulating, mirror polished, surface. Zaniz was inspired by Henri Matisse's Les Bêtes de la Mer paying homage to Thomas Edison and the incandescent filament bulb. ⁠
It consists of over 700 hand blown bohemian shaped crystal bulbs in an array of sizes. Over 400 of the bulbs have a mirrored surface finishing. To achieve a feel of electricity running through the chandelier led chips and fiber optics for illumination.
A hand blown crystal bulb chandelier. Image credit: Zaniz
3. A Silver Plated Balustrade 
An elaborate yet simple silver plated balustrade makes an impact on M/Y Ace on the main staircase on the main deck.
Monochrome chic. Image credit: Winch Media
4. Veronese Amethyst Murano Glass Chandeliers
These two amethyst murano glass chandeliers add a sweeping chorus of drama to the cockpit social area on the 175-foot yacht Pink Gin VI 850. Design Unlimited coordinated the project, commissioning Veronese to make the chandelier. Individual pieces of glass move and shimmer in the sea breeze.
Veronese were inspired by the unique texture and movement of sea anemone Adverse weather conditions at sea and the size of the chandeliers and the fact that they cannot be suspended while cruising proved to be a feat. Their solution was to make collapsible chandeliers- now the crew can easily remove them and stow them away flat whilst cruising.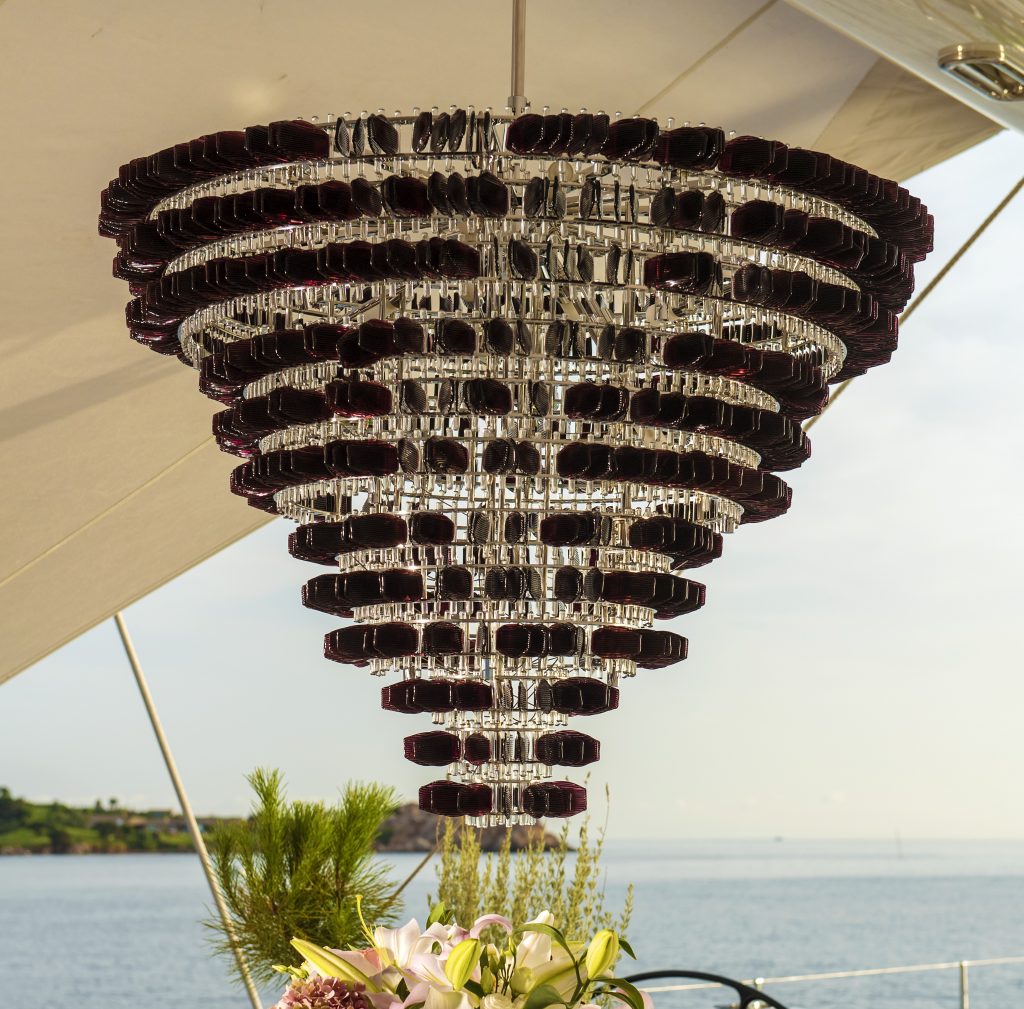 Image credit: Design Unlimited. Photograph: Marco Moog.
5. A Tree Sculpture Illumination
'The Tree of Life' illuminates iconic 85 meter charter yacht Solandge, built by Lurssen. Aileen Rodriguez was the designer behind the striking interiors. This lighted sculpture reaches up to 50 feet high and consists of more than 1,200 light points. This magnificent sculpture was created to fulfil the owners wish to have something running the entire height of the vessel from the tank deck to the bridge deck.
'The Tree of Life' illumination on board Solandge. Image credit: Klaus Jordan
6. A Double-Height Glass Chandelier 
The art-deco inspired double-height glass chandelier was designed by Reymond Langton and made by Crystal Cavia. This resplendent statement light was installed on Heesen's 164 foot displacement superyacht, Ann G.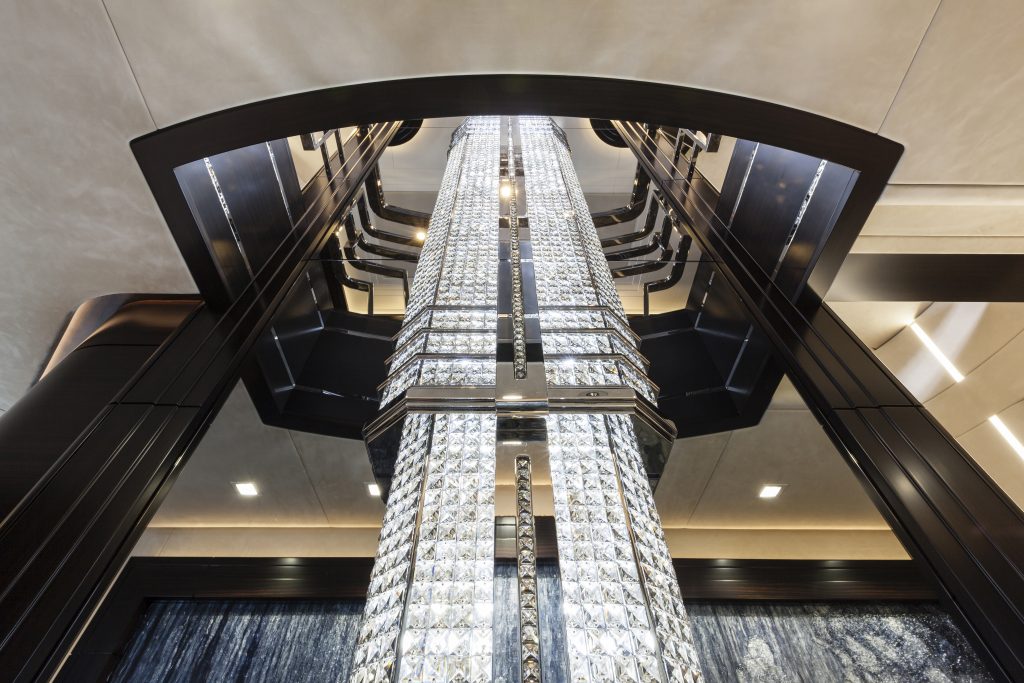 Bling-bling lighting works beautifully against a neutral backdrop. Image credit: Heesen Yachts
Related
---