Boat Storage Guide: Know Your Options and Planning Ahead
---
Fall is upon us again, and that means many people will be considering ways to store their vessel for the colder months of the winter. For yacht owners and boaters, securing proper boat storage is a vital element of the boat buying process and an ongoing boat maintenance issue for every owner. There are several key factors to consider before deciding on how you will store your yacht or boat for the winter, or for any time of the year. You may choose different storage options depending on the seasons and your location. Some opt for dry storage in the winter, and wet storage during the boating season, but it is a matter of preference and cost.
Of course, the size of storage space versus the size of the boat is the biggest deciding factor. No boat owner wants to pay for extra storage space they don't need and the vessel simply won't fit in a space that is too small. The environment of the storage rental is also crucial. Do you trust your boat to stand up to outdoor elements?
These questions, and several other important factors, are examined ahead. Keep reading for a comprehensive boat storage guide to help you in your quest for storage.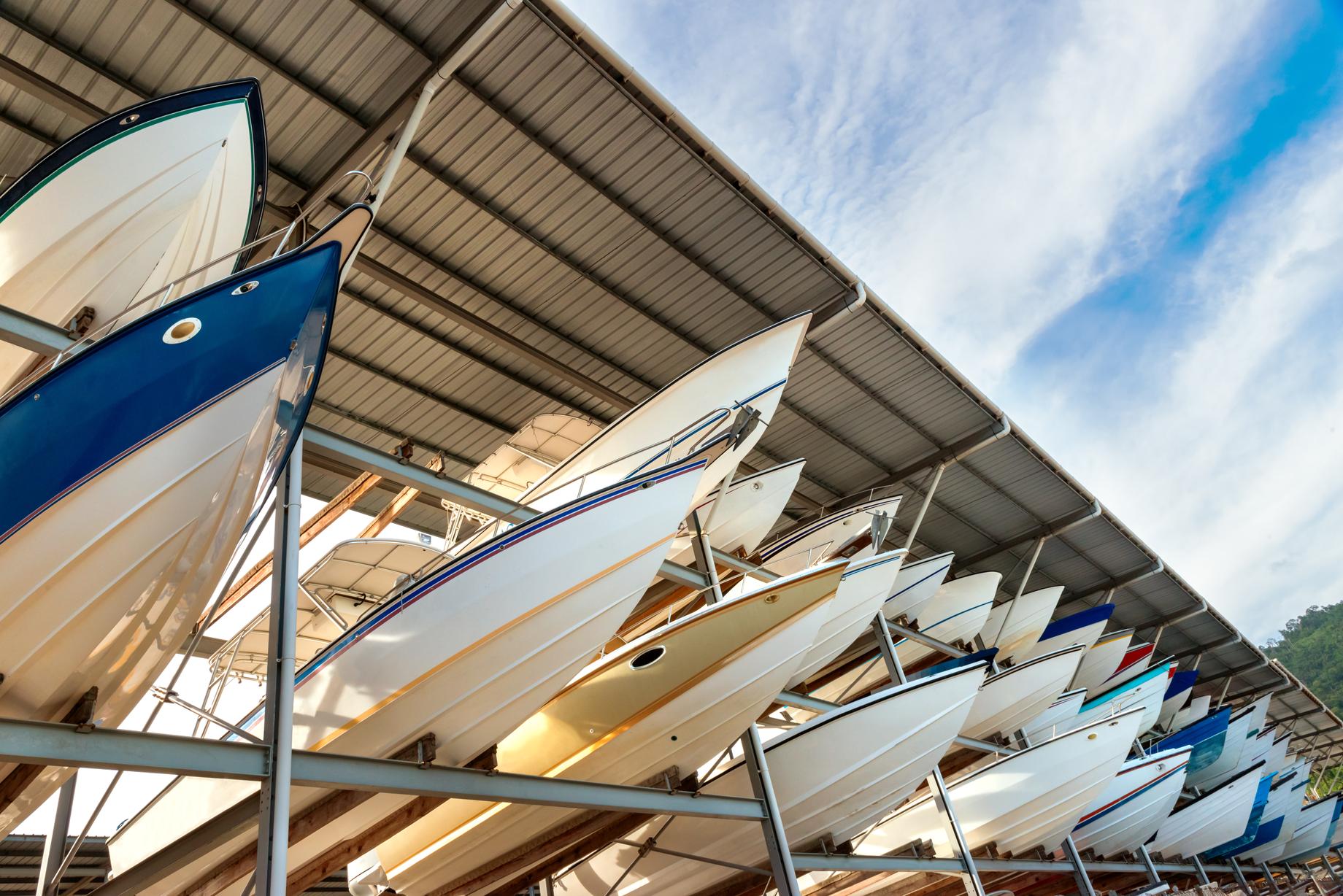 Above: Boats in a boatyard on a covered rack. Boats stored like this must be lifted up with fork lifts and moved in and out of the water, thus require help from on-site staff in order to access. Photo by Altinosmanaj on Pond5.
Different Types of Boat Storage Facilities
There are four main categories when it comes to the type of boat storage available. These include storage at a marina, storage at an outdoor boat yard, storage at an indoor "high and dry" boat storage warehouse, or self-storage. Different characteristics of your boat will ultimately decide on which storage option is best for you.
Marina Slips
Marina slips typically offer a few options when it comes to storage. Owners have the choice between a "wet slip" storage option and "lift slip" or "dry dock" storage option. Additionally some marinas will offer moorings, and some will allow owners to keep boats on those mooring year round, depending on location and weather. Finally, some marinas will also have a boatyard nearby or on-site, and some may even offer a warehouse "high and dry" stacking storage solution.
One of the advantages of marina storage slips that are in or on the water, is that you won't have to wait on staff. Usually, you can enter the marina and head towards your assigned slip to untie your boat and leave as you please. Having to wait on staff members can take a decent chunk of time out of your day.
Wet slips at a marina are made up of the boats you see in the marina that sit in the water at the docks. The boats are tied to a dock at the marina and sit in a designated space during storage times when they are not being used. You are given an assigned slot where you return the craft each time you dock.
Dry docks (or lift slips) are slips where with an on-site boat lift that is used to lift the boat out of the water after you dock it and hold it on a specialized dry docking system, keeping it above the waterline. One of the main advantages to this type of storage is you end up with a much cleaner bottom half of your boat and thus the vessel requires less maintenance. Most marinas allow you to operate the lift on your own.
Being able to come and go at your leisure has its advantages. There's also the convenience of not having your boat's trailer whenever you want to use it. Keep in mind that your boat will not be covered at most marinas, so it's still exposed to the elements if the weather gets bad.
High And Dry Storage: Boat Warehouses
High and dry boat storage facilities are housed entirely indoors. The warehouse utilizes forklifts to retrieve and return your boat before and after each use. The boats are often stacked on top of each other in long rows inside the warehouse and they can take awhile to retrieve, so require advanced notice and heavy equipment to access. Indoor storage is the best possible scenario for storing your boat when it's not in use. It's completely safe from any severe outdoor elements, which has tremendous benefits to the boat's lifespan.
However, high and dry storage does come with its own set of drawbacks. Using these facilities means you have to wait for a forklift operator to retrieve your boat whenever you show up to use it. This can be very time-consuming, especially during the busy season.
Unlike most marinas, high and dry facilities don't offer power for your boat. This lack of power can lead to many dead batteries if your boat's equipment uses a lot of energy.
Keep the size of your boat in mind as well. There are height, size, and weight limits at most of these facilities. Call ahead to find out what their limitations are.
It can be inconvenient to wait for someone to retrieve your boat, but many high and dry storage warehouses are kind enough to grab it for you ahead of time if you call. This inconvenience is a small price to pay for keeping your boat out of the harsh elements of the water.
Self-Storage: Boat-Friendly Storage Facilities
Self-storage is the most cost-effective means of storage. The owner keeps the boat either on their dock if they have waterfront property or trailers it at their home after each use. The owner can also find a storage facility that is not specifically dedicated to boats, such as a garage or self-storage company that offers covered parking spaces, where a boat can be stored out of the way and protected from the elements.
The nice thing about self-storage is nobody else has to handle your boat. There's no risk for accidental damage by other boat owners or workers at storage facilities.
Owners who have their docks can also utilize the convenience of boat lifts if it's within their budget. There are multiple types of boat lifts available for owners to choose from and have installed.
Assuming an owner doesn't have waterfront property, the biggest inconvenience is having to trailer the boat. Each time the boat is used, the trailer has to be backed up so the owner can launch the boat. Likewise, when the trip is over, someone is responsible for reversing the trailer ahead of time.
Boatyard Storage: Outdoor Lots
Boatyard storage facilities are large outdoor properties that allow owners to store their boats off the water. Typically they are large plots of land with fencing around the perimeter, located very close to the water. They usually have video surveillance and a security guard, but they do not usually have indoor storage options. They may have stacking equipment as well, or the boats can just sit on trailers in rows throughout the lot.
The benefit of using this type of storage is that the only trailer hauling is done from the yard to the water, which can sometimes be only a few hundred yards. This saves a lot of time and fuel.
The downside is the boat is still exposed to outdoor weather conditions. It's a good idea to utilize a boat cover if you're going to store your boat at one of these facilities for extended lengths of time.
The Cost of Boat Storage
The cost of storing your boat depends heavily on the type of storage you choose in the end. The size of your boat and the popularity of the location also weigh heavily on the final cost.
The cost can range anywhere from a couple of hundred dollars a month to thousands a month for high-end, indoor storage. Indoor high and dry facilities will come with the highest price tag. Self-storage and boatyards will be the lowest-priced options.
Marinas usually take a boat's measurements into account when tallying the price. Marinas usually charge anywhere between $50-$200 per foot of storage.
Tips for Owners
Whenever you're choosing the storage facility, always take note of how the facility looks. If it seems unkept and the other boats aren't in the best shape, skip to the next one. Find a place that looks well maintained with well-kept boats on the property.
Always wash the boat after each use, regardless of where you're storing it. You must remove as much salt and other harsh elements as sand from the surface of the boat before you store it.
Finally, inspect the boat and take a mental note of how the exterior looks. This ensures that if any damage is done while you're away, it will be easier to spot the next time you use your boat.
Take all of these factors into account and make an informed decision. Don't be afraid to spend a few extra dollars on storage that you feel is a bit higher quality. The life of your boat depends on it.
Related
---