Downeast Lifestyle: Hemingway's Boat, Windjammers and Lobsters in Maine's Wooden Boat Mecca
---
At the end of this summer I was invited to one of the meccas of wooden boat building in the United States. Escaping to Maine from a hot August summer in South Florida? Why not! I was on the assignment for YachtWorld without a second thought. Researching and reporting on wooden boat building was a worthy task but returning to my old home to visit both familiar and new, New England haunts, was even more intriguing. And my taste buds longed for a real Maine "lobstah" bake!
Flying into Boston for my first post-"Big Dig" visit was a treat, especially finding the ReelHouse seafood restaurant in nearby East Boston, as the first stop. There I met up with Ryan from Boat Trader and the video crew who'd be accompanying us and on the trip to capture the entire experience on film. The Riva boat models behind the bar made me feel like I was starting off on the right foot as the team and I inhaled our first taste of New England, then set off for a 4-hour drive north.
The Brooklin Boat Yard
A late-night arrival through driving rain set us up for a beautiful cool morning as we set out from the charming town of Ellsworth to Brooklin, Maine, the self-proclaimed "Wooden Boat Building Capital of the World." Winding roads through scenic farms, fields and quaint small towns set the scene for our arrival at the docks of the Brooklin Boat Yard, a large and storied wooden boat building plant, which began as a sardine factory in the 1890s.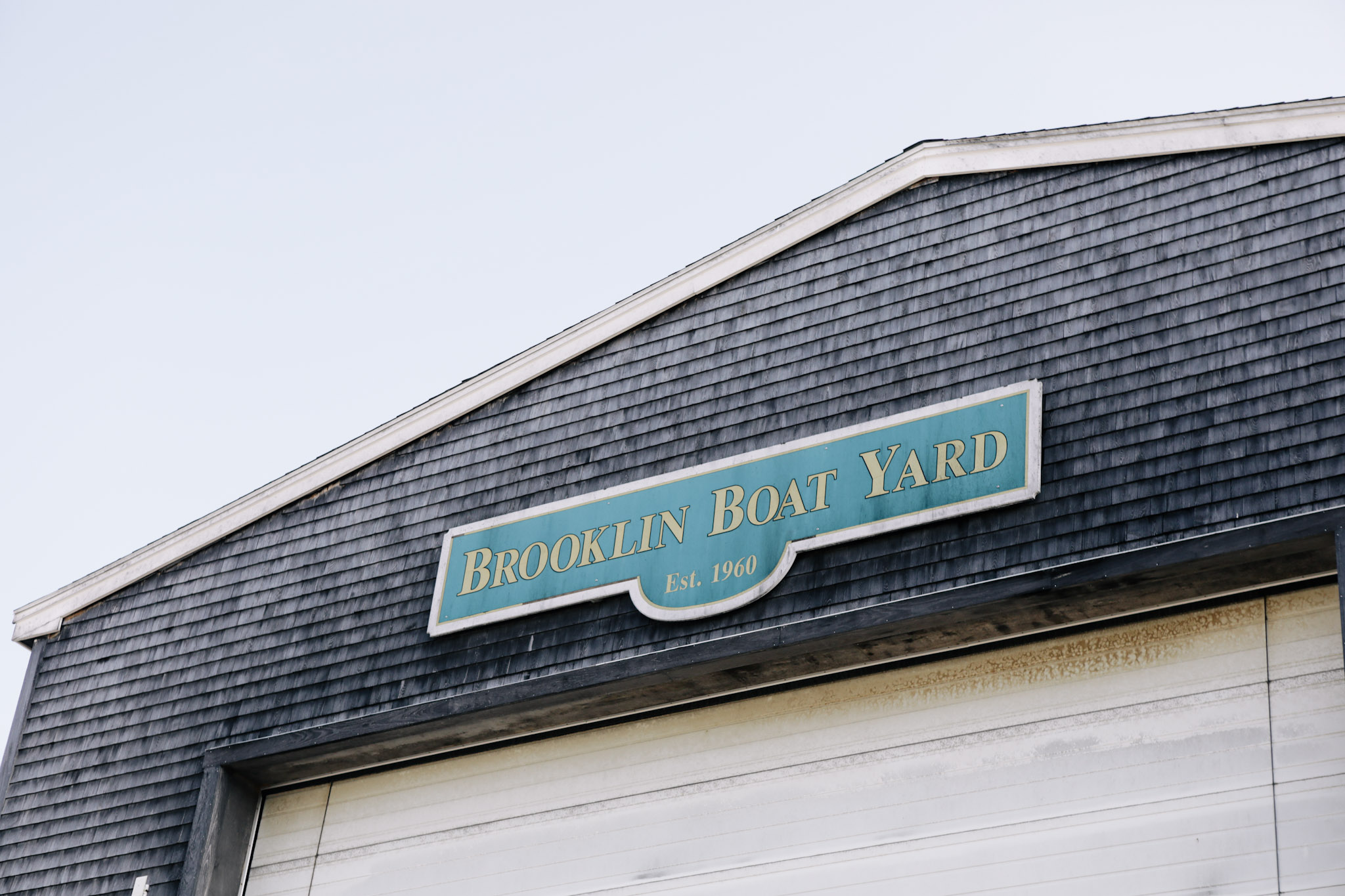 Above: The Brooklin Boat Yard in Brooklin Maine, one of the epicenters of wooden boat building in America. Photo by Amy Richmond.
We planned to get a thorough tour of the wooden boat factory later (for an upcoming episode of boats.com's Factory Fridays – a video series I also host) but first, we were set to go for a cruise around the Eggemoggin Reach, on a very special wooden boat. Our goal was to capture footage of this unique vessel as part of YachtWorld's newest upcoming video series "Cult Classics", a documentary-style video series about "a select group of venerated yacht builders who have earned an extremely loyal following of devoted fans and owners, helping them achieve an almost 'cult-like' status". Lucky for us the famous Eggemoggin Reach Regatta was also going on at the same time, which made for spectacular views of sailboats and sailors in nearly perfect Maine sailing conditions.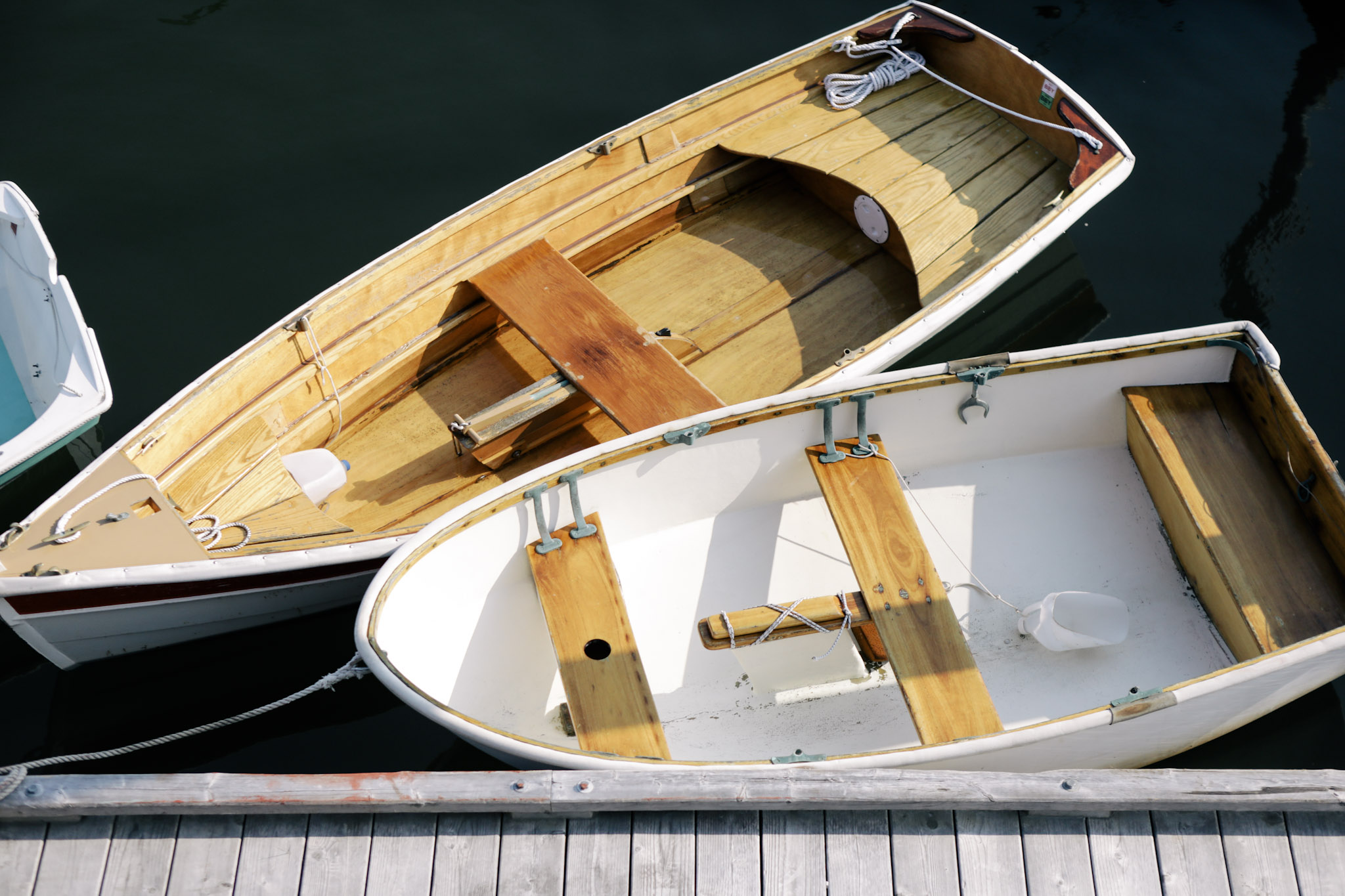 Above: Small wooden boats at the docks in Brooklin, ME. Photo by Amy Richmond.
The New Hemingway Boat, A True "Legend"
At the Brooklin Boat yard, our focus of the shoot was docked. Legend, the stunning 38-foot wooden boat built by Wheeler Yachts at the Brooklin Boat Yard, is a well-researched and accurate reproduction of Ernest Hemingway's fishing boat, Pilar. But there's much more to the story behind this classic downeast style yacht than that.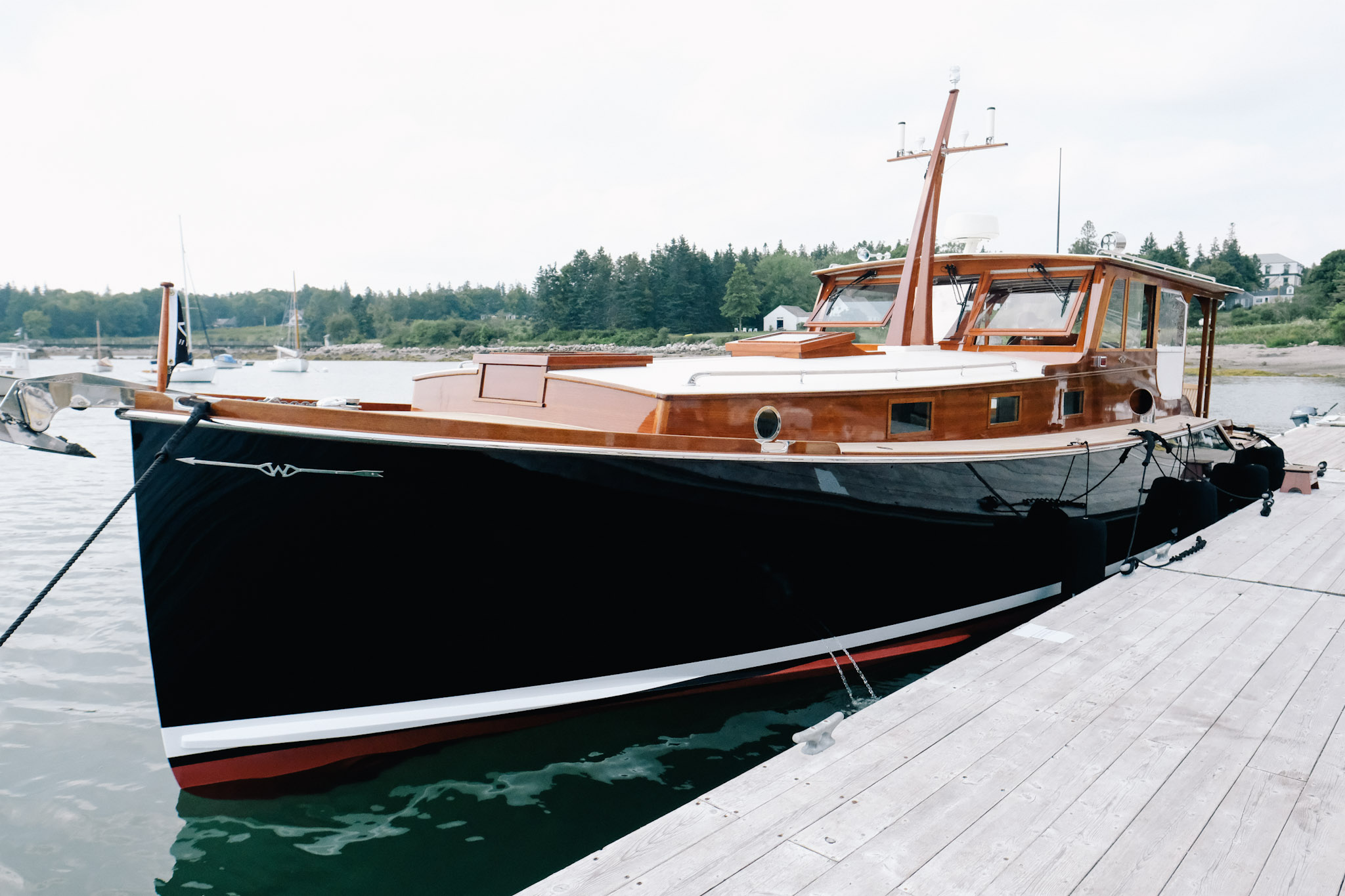 Above: LEGEND, hull number one of the new Wheeler 38 yacht, sits at the docks in Brookline, Maine. Photo by Amy Richmond.
Wheeler Yacht Company, who built the legendary fisherman and author's boat back in 1934 at its Brooklyn, NY factory, was disbanded in 1963. For decades, no more Wheeler Yachts were made and the company seemingly faded into history. Wes Wheeler was the only Wheeler son who decided not to stick with the family boat building business and ventured out into a career in oil and pharmaceuticals. Decades later, in a strange twist of fate, actor Andy Garcia found Wes' contact info and called him up out of the blue to ask if he was part of the original Wheeler family who'd built Hemingway's Boat. When he answered yes, Garcia asked if he would be interested in building a Pilar reproduction for an upcoming Hollywood movie on Ernest Hemingway.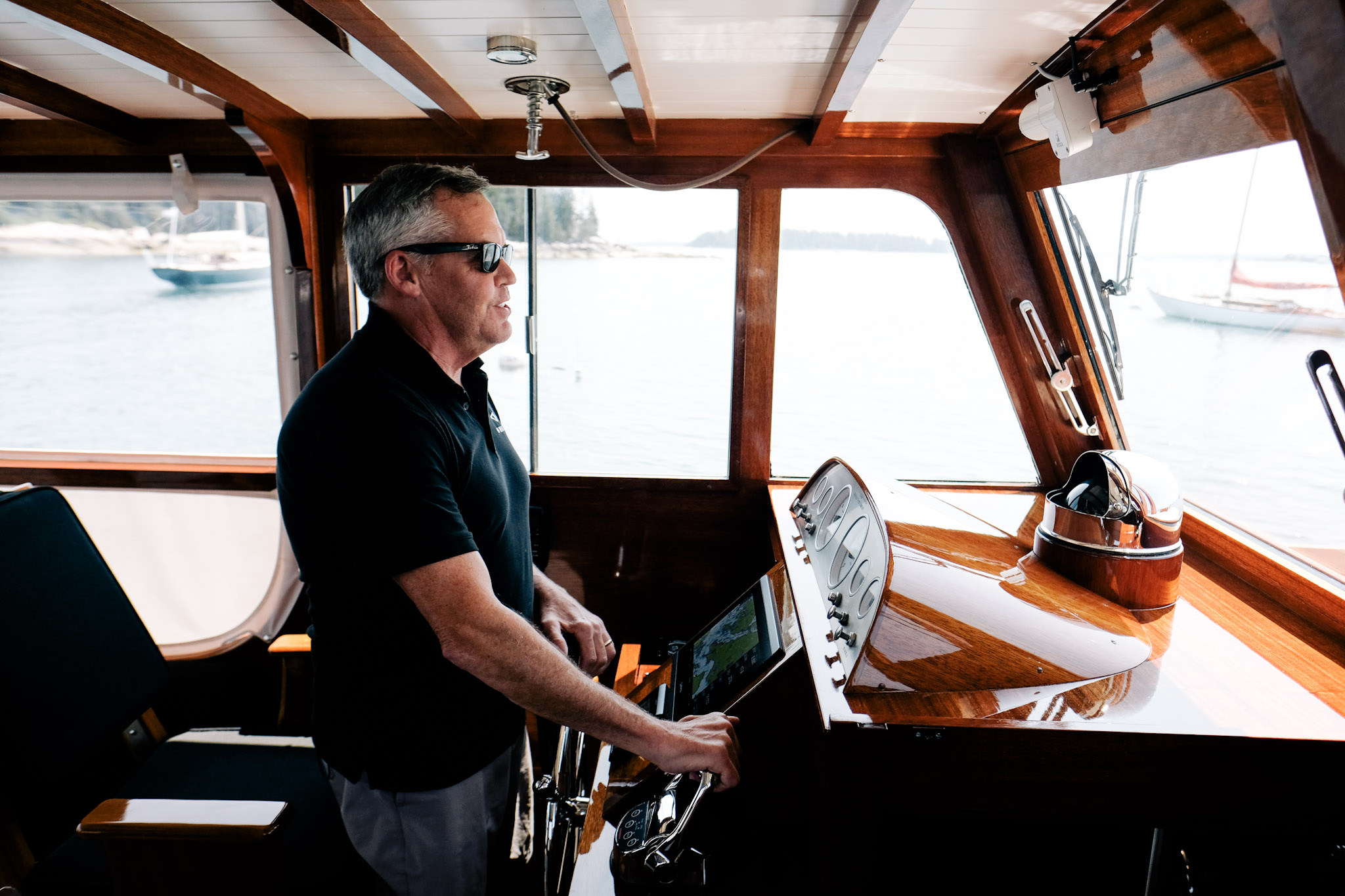 Above: Wes Wheeler at the helm of LEGEND, the new Wheeler 38 yacht. Photo by Amy Richmond for YachtWorld.
Ultimately, Andy Garcia ended up opting to fund a retrofit of a 31' Wheeler Playmate that Wes found him in order to accomplish the goal of creating an authentic Hemingway-esque wooden fishing boat, rather than build a new one. To this day, the Hemingway movie has not yet been made for a number of reasons. But the whole affair did get Wes Wheeler hooked on the idea of re-creating the true 38' playmate with a retro design only with today's technology.  He and his wife Marianne talked it over, and decided ultimately to take on the project together and resurrect the Wheeler Yachts name to build the new Wheeler 38.
Above, from left to right: Ryan McVinney, Marianne Wheeler, Marilyn DeMartini and Wes Wheeler onboard LEGEND. Photo by Amy Richmond. 
The Wheeler 38 – Recreating An Icon
After an exciting life of travel and sail boating, he and Marianne embraced the new project fully – along with all of its quagmires – as they traveled to Cuba to explore and measure every inch of the original Pilar with Hemingway's niece, Hilary Hemingway. Another curiosity and Cuba connection, Wheeler Shipbuilding Co. had also built Fidel Castro's Granma in 1943, the 60' yacht that took fighters of the Cuban Revolution in 1956 from Mexico to Cuba to overthrow the Batista regime. That boat is now an artifact at the Museum of the Revolution in Cuba.
Now juggling his own work and becoming a wooden boat builder, Wes Wheeler found new zeal in his family's business and when he met Steve White at the Ocean Reef Club's famous "Vintage Weekend," he found that White had already researched woods, finishes and designs to build a new Wheeler. The two have since become business partners and friends in the quest to build the perfect new Wheeler 38 Playmate.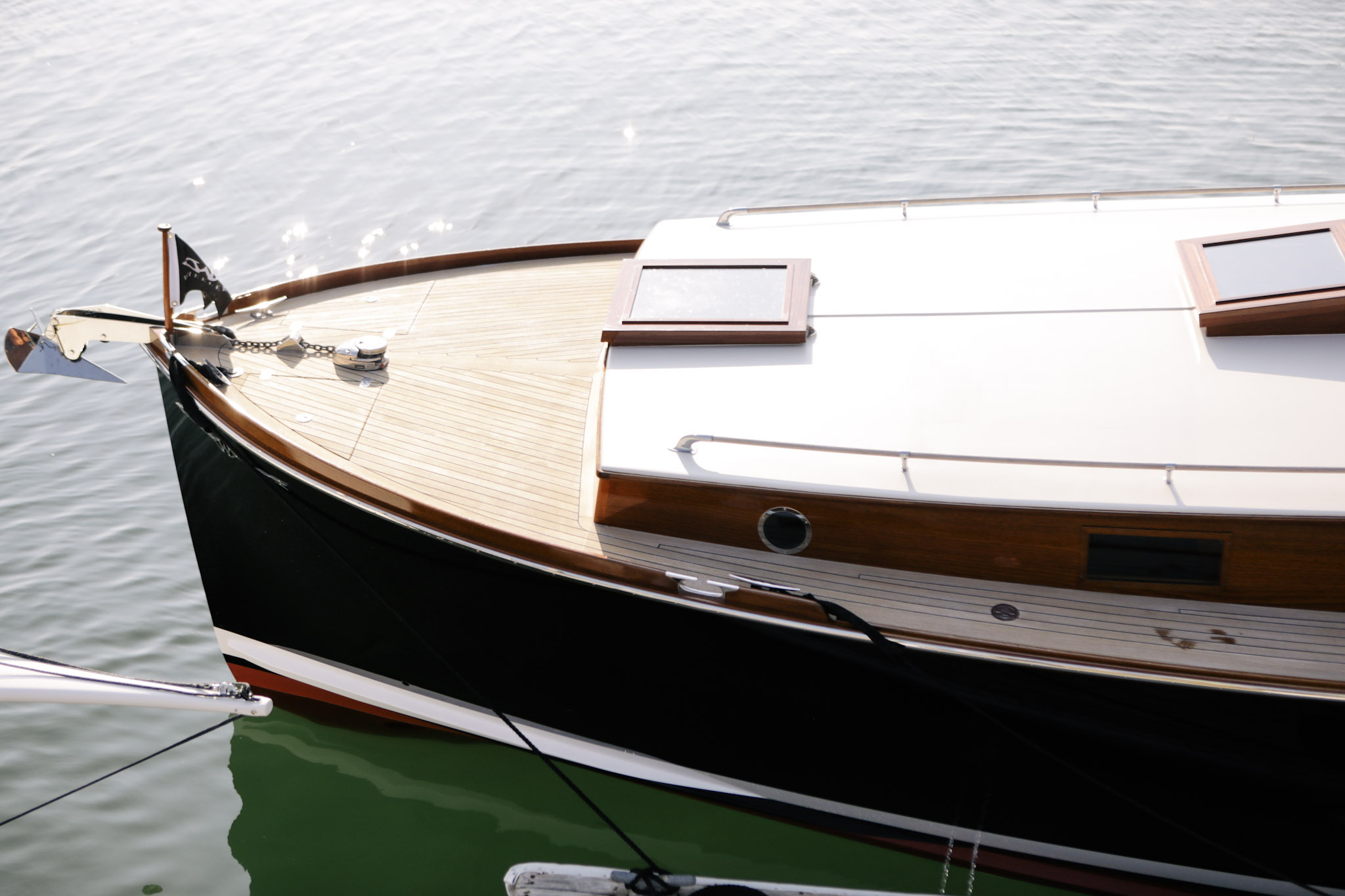 Above: The bow of the new Wheeler 38 yacht. Photo by Amy Richmond for YachtWorld.
The Construction Process
Back at the Brooklin, Maine factory, where the new Wheeler 38 was built, we met Steve White, the third-generation boat builder who created the first cold-molded sailboat, Vortex, with that method and that boat, still being used today. White built the boat on spec, but never sold it and enjoys sailing it regularly. His grandfather, Howard, started the boat yard after World War II, and was born in 1899, the same year as Ernest Hemingway. White learned the trade from his father, yacht designer, Joel White, and though he left Maine for school and dallied at other occupations, he returned home to Brooklin in the 1950s to continue the tradition. He now views both the factory below and the sea beyond from his third-floor corner office window. Plans, blueprints, sketches and drawings of grand wooden boats built there adorn every wall and desk. The structure feels like the birthplace of legends.
Above: Steve White of the Brooklin Boat Yard and Marilyn Demartini discussing wooden boat building. Photo by Ryan McVinney for YachtWorld.
Hull #1: A Masterpiece Of Wooden Boat Building
The first hull of the new Wheeler 38 yacht is a statement of classic wooden boat building, through the collaboration of Marek Yacht and Bill Prince Yacht Designs, reverse engineered and cold-molded by a team from Brooklin Boat Yard, headed by Eric Stockinger. At 39' 4" with a 12' beam, and 3' 5" draft, the 20,600-pound boat gleams from bow to stern, with teak brightwork, a dark painted hull with white boot stripe and the Wheeler logo emblazoned on various specifically cast stainless steel and chrome hardware accents. Beneath the waterline, the hull was changed to accommodate the higher speeds and improved handling of the yacht. But she still has that classic look, and the spirit of Hemingway's boat comes alive in this newer boat.
Modern Features Tastefully And Subtly Incorporated
Other new technologies become evident as you explore the boat up close, including additions like the Seakeeper 3, bow thruster, bow anchor, Zipwake, windshield wipers, and splash rail. Aft deck stainless rails and ropes were also added to make the cut-back sloped transom safer for cruising, rather than pulling in big fish. A ladder that Hemingway used to access the roof was added, though not so functional in the new model.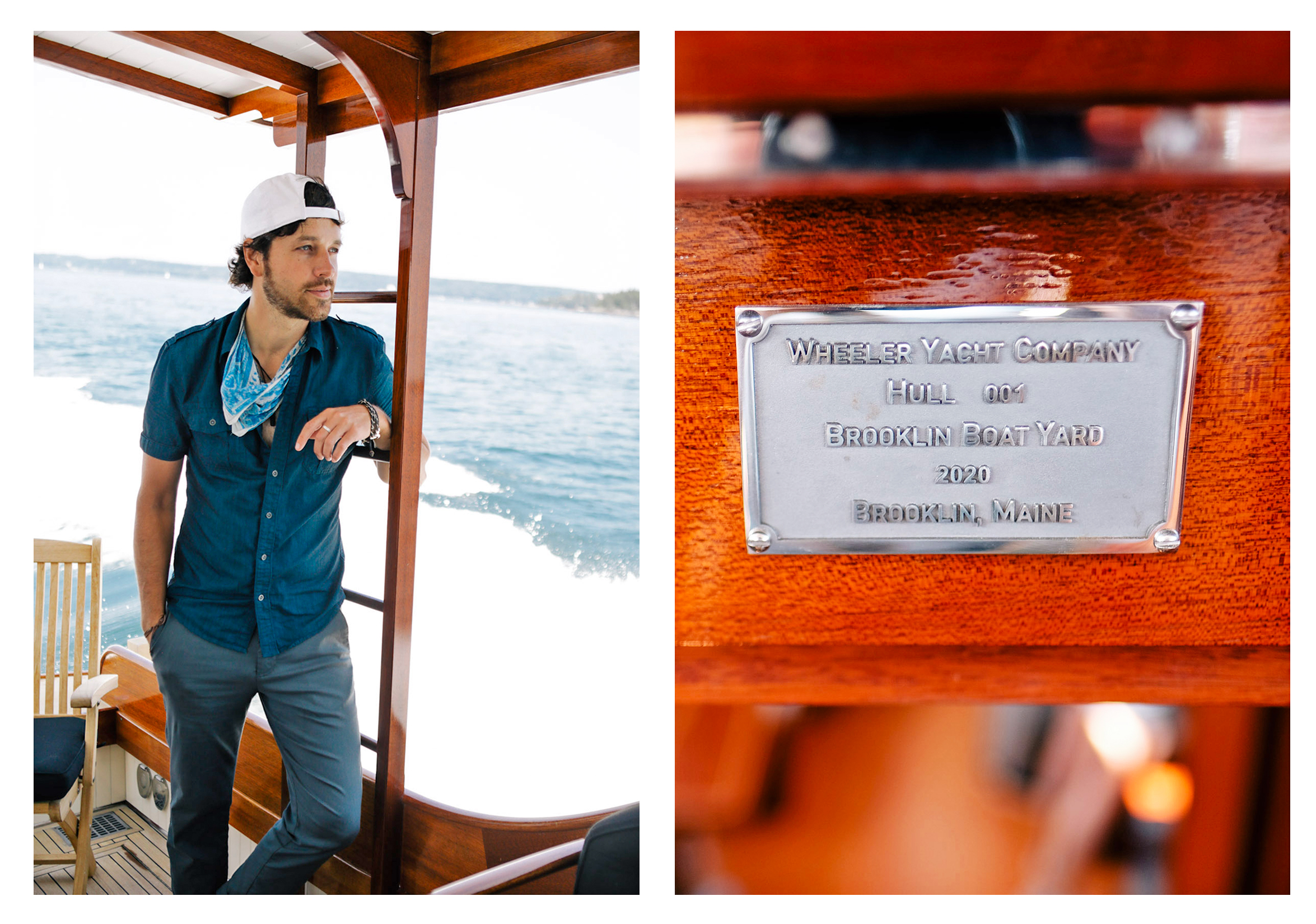 Above: (L) Ryan McVinney leans on the decorative ladder styled after one of Ernest Hemingway's favorite features of PILAR, now reproduced on LEGEND, hull #1 of the Wheeler 38. (R) The Wheeler Yacht Company placard onboard LEGEND. Photo by Amy Richmond for YachtWorld.
All the operational switches are hidden behind mahogany wood helm hatches; a stainless dash houses analog gauges that hook into the NMEA network, belying the touch screen and iPad/iPhone controls and inductive phone chargers. The boat is powered by Yanmar 370 HP engines, chosen for their fit in the tight engine compartment, and cruises easily at 26 knots. Even the stainless and wood steering wheel was sourced and replicated to feel original, yet responsive to the new technologies. Old school chrome hardware on windows facilitates fresh air ventilation while the air conditioning is cleverly placed and hidden throughout the boat—as is the sound system, that reverberates from under the salon seating.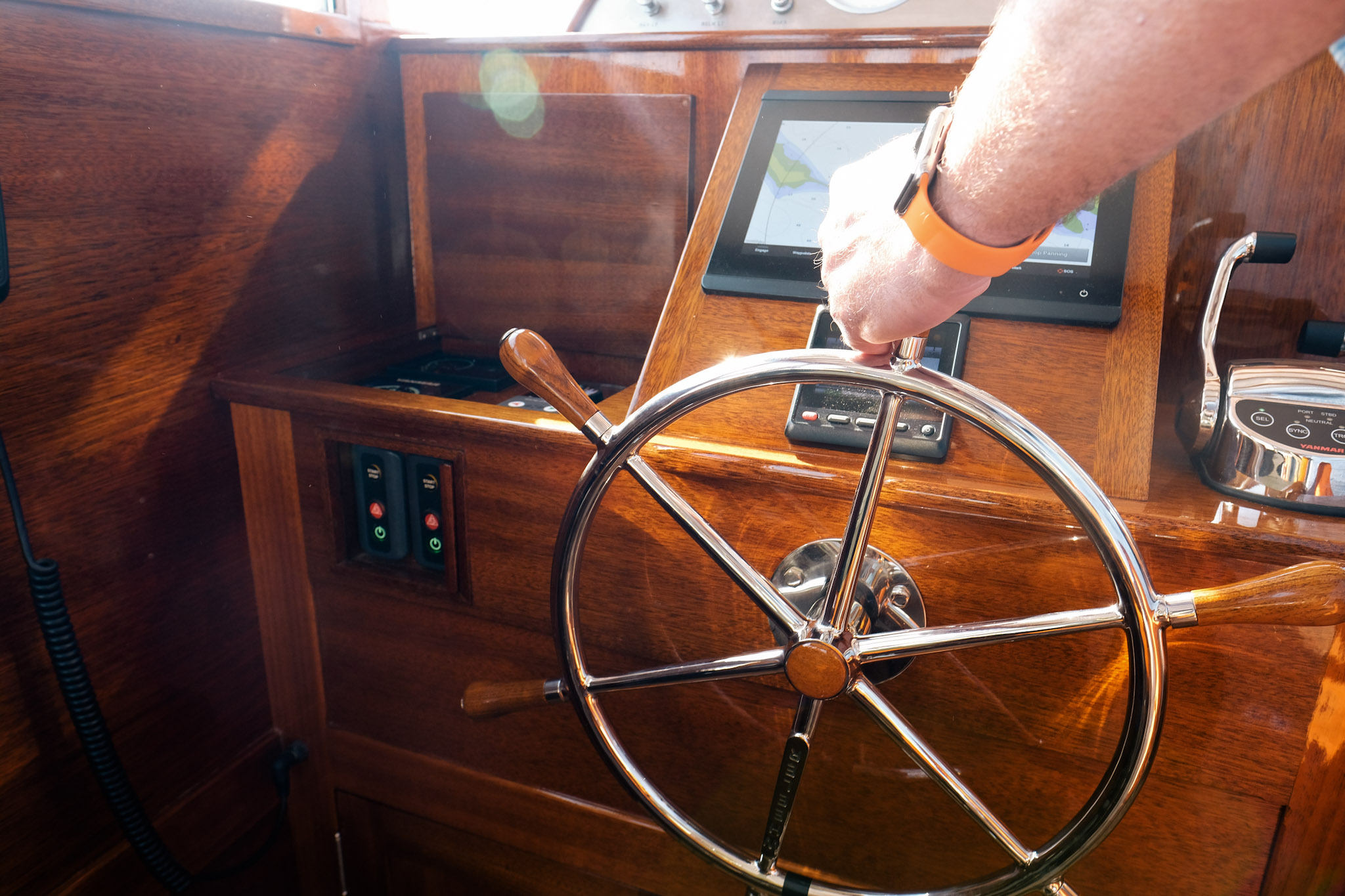 Above: The stainless steel steering wheel with wood grain handles at the main helm controls of the Wheeler 38. Photo by Amy Richmond.
Interior Design
Marianne Wheeler took charge of the interiors, with the help of Martha Coolidge Designs, a Maine resident who specializes in classics. The retro-feel of the fabrics and mahogany furniture give the boat authenticity, yet comfort and elegance where Hemingway favored the utilitarian. Douglas fir floors, a TV that looks like framed art, chairs that store wine beneath the cushions, galley storage and customized China, and a queen berth rather than bunks, give Legend all the cruising comforts desired, with 6' headroom, storage, wood latches–and plenty of class.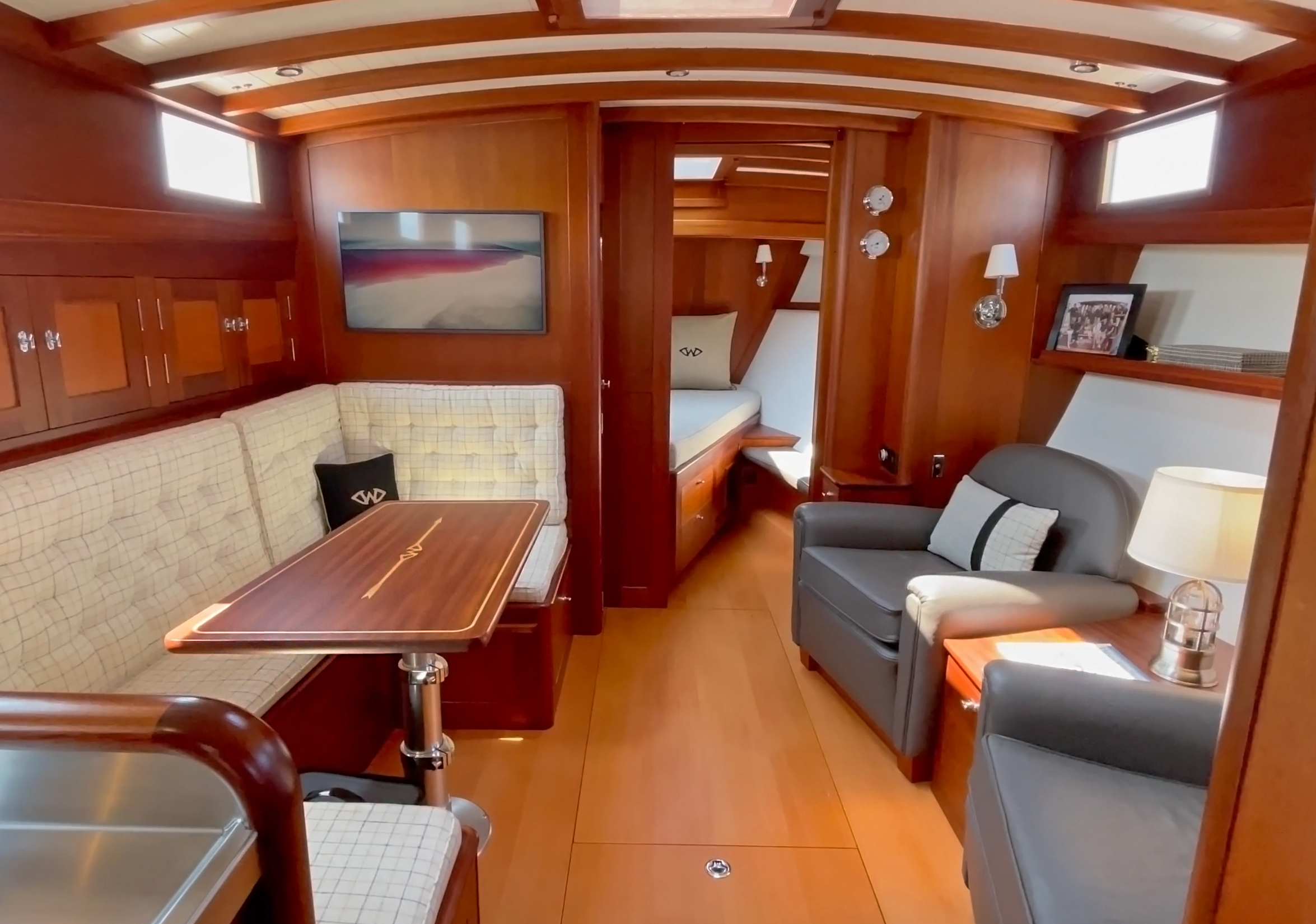 Above: Below decks in the main salon of the cabin interior onboard the Wheeler 38. Photo by Ryan McVinney.
On The Water With Legend
The boat handles with ease, looks amazing and hull #2 is in currently in planning with several inquiries on new orders from a Maine boat show appearance. Legend was headed to the Newport Boat Show soon after our cruise onboard where many more are likely to fall in love with this amazing yacht. So now, the one-off boat that became a passion for a non-boat builder has brought the third generation Wes Wheeler back into the wooden boat building company fold.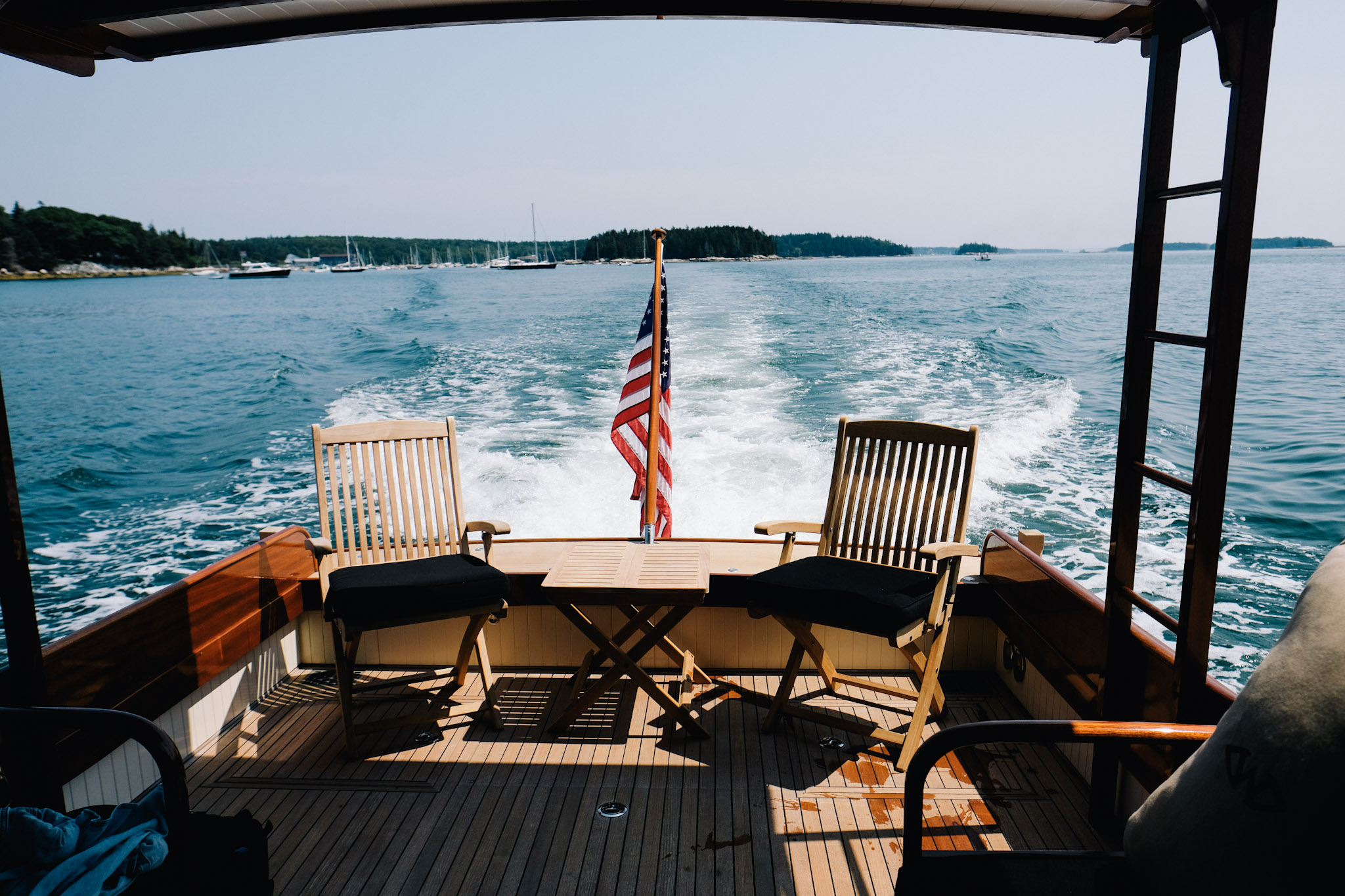 Above: The aft deck of the Wheeler 38 while underway. Photo by Amy Richmond.
Steve White and his team are eager for a new build, having learned on hull #1 just how to blend technology into the classic 38. To make it easier, a bigger model may be in the works, for plumbers, electricians and riggers all had to vie for space in this boat, to fit all the technology into the structure.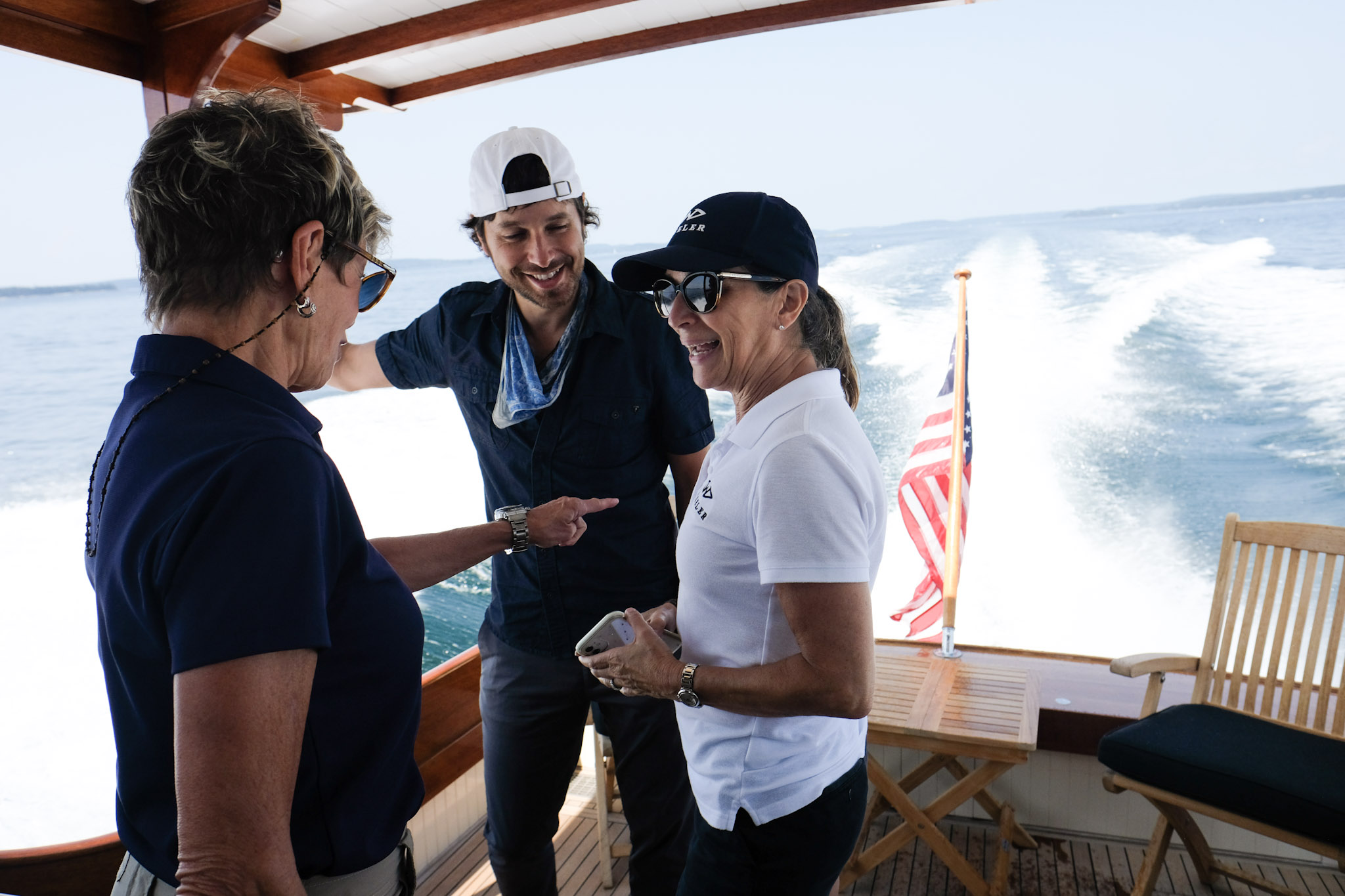 Above: Marilyn DeMartini with Ryan McVinney and Marianne Wheeler onboard the Wheeler 38. Photo by Amy Richmond.
With Legend under our belts, including an afternoon cruise to view the feeder race of the Eggemoggin Reach Regatta—a visual plethora of vintage and classic sailing vessels–we headed on to yet another local Brooklin legend, the WoodenBoat School.
Above: Two sailboats partaking in the Eggemoggin Reach Regatta. Photo by Ryan McVinney.
The WoodenBoat School – Where Tradition Lives On
A sought-after resource and destination for want-to-be wooden boat builders, the WoodenBoat School is owned and operated by WoodenBoat Magazine, whose founder and editor, Jon Wilson, established it 41 years ago to preserve the art he undertook and embraced as a youth and took it into adulthood as a career and passion. Tucked down a side street, a 64-acre campus, including a campground that is open to students and the public (pre-COVID), the school exudes old-world charm from its wood-burning stove, wood Quonset huts, old wood crafting tools and many souvenirs left by graduating classes.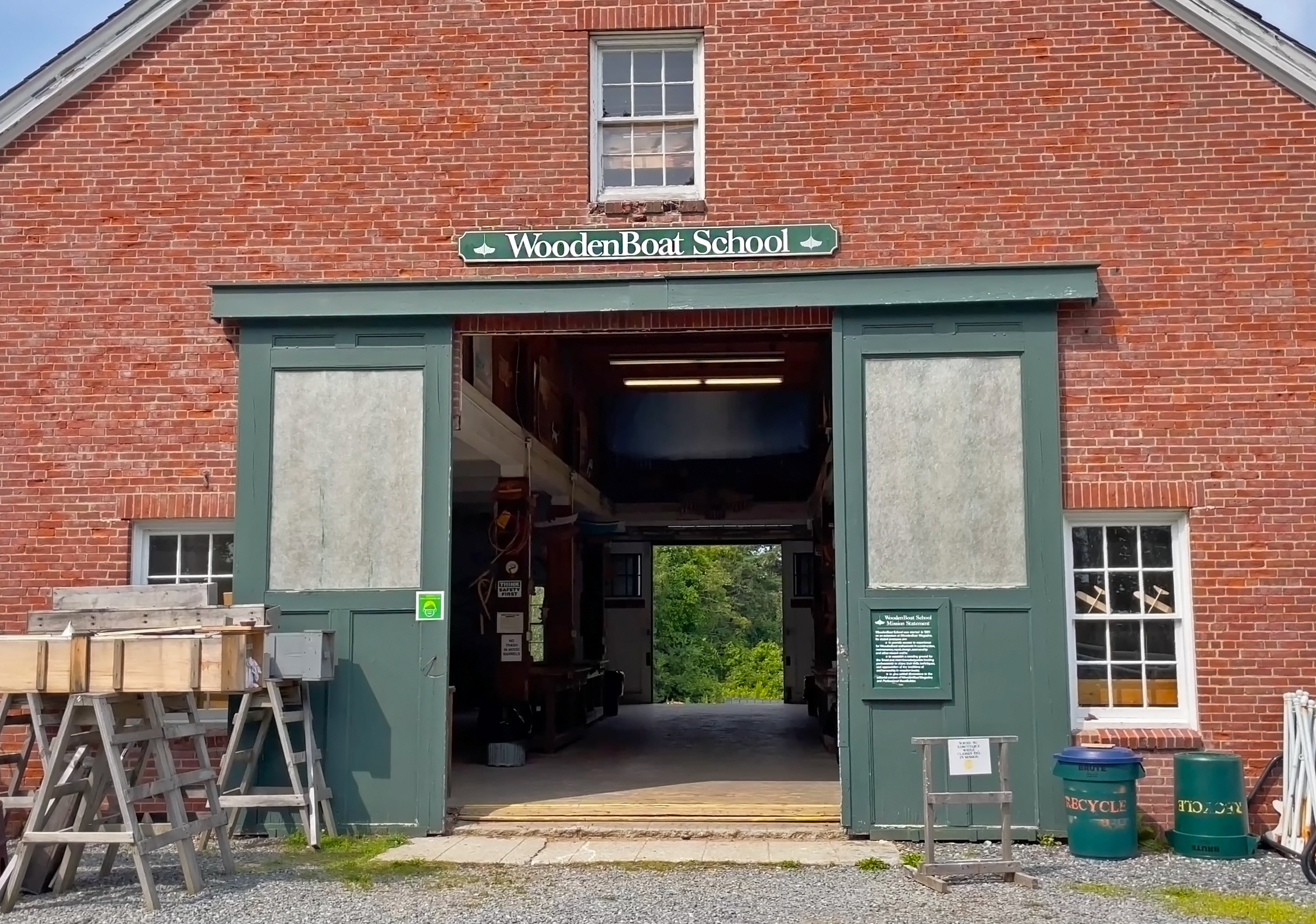 Above: The WoodenBoat School in Brookline Maine. Photo by Ryan McVinney.
There are over 90 courses at the school, ranging from blacksmithing to seamanship, wood working and model making. Classes are comprised mainly of 45-50 year-olds, with long waiting lines of aspiring students to build everything from kayaks and sail boats to dories. Surprisingly, few younger students are vying for positions in the marine industry.
Boat Building As A Creative Skill
According to Bill Hilsinger, who ran the school for 38 years, "People appreciate the hands-on nature of the school—it's not lectures and PowerPoints. Our fine instructors enable people to feel creative, learn new skills and make something with their own hands—there will always be people who want to do that." He said it is time to "turn the tiller over" and Eric Stockinger, the project manager for Legend, will now take over the operation of the school—though Hilsinger will likely be involved as the new chapter evolves.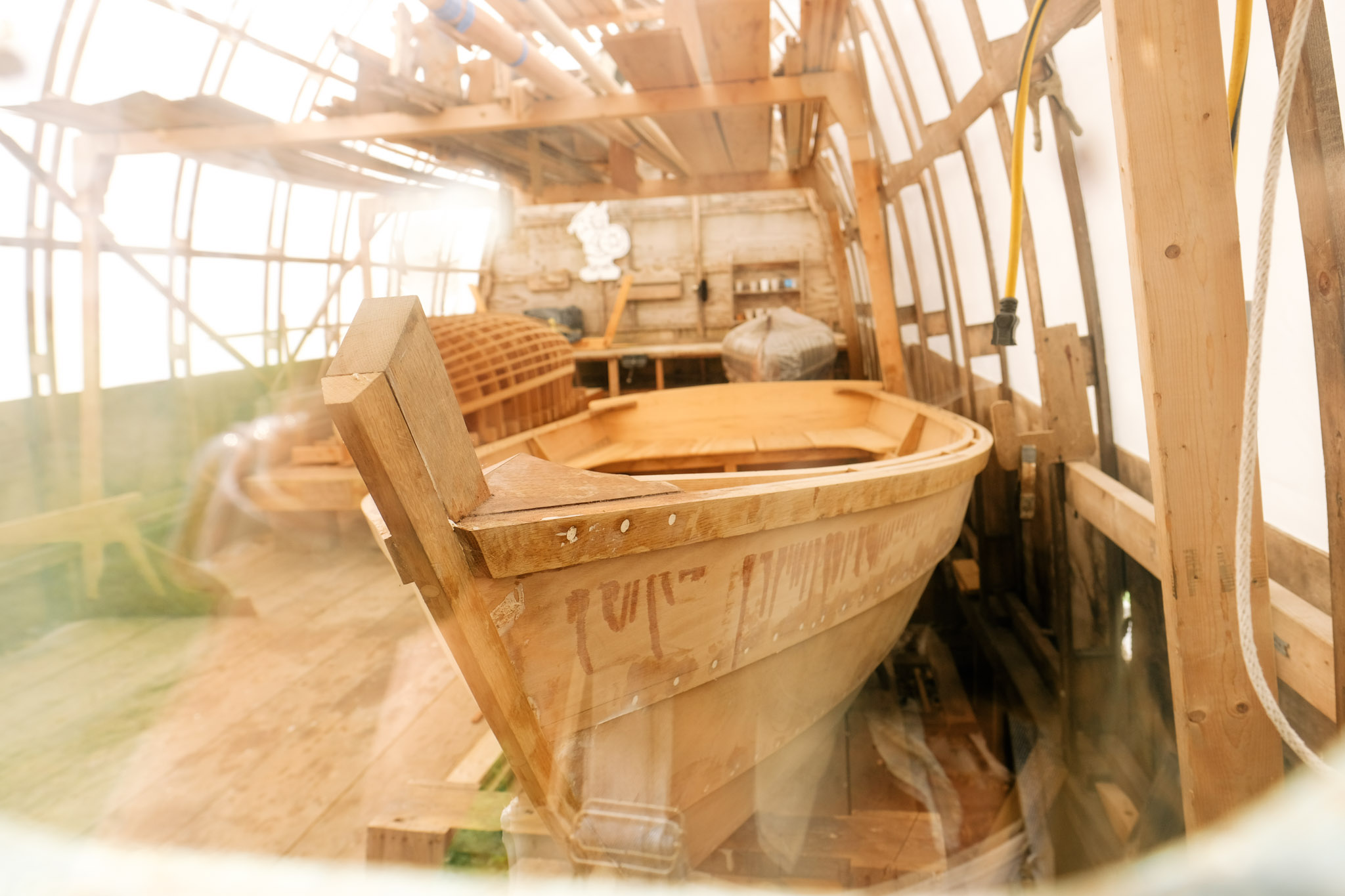 Above: Wooden boats at the WoodenBoat School in Brookline, ME. Photo by Amy Richmond.
Maine Windjammers in Camden Harbor
On the way to our next adventure, Camden, Maine, we saw the Front Street Boat Yard, an impressive expanse, where Steve White partnered with several other mariners to create a major service enterprise on the coast of nearby Belfast. Once we arrived in Camden, we found another scenic town with a gorgeous harbor, filled with all different types of boats, including a well-preserved fleet of wooden and steel Windjammer sail boats that still offer retro-feel cruising for up to 29 passengers who can participate in the sailing experience as they island hop through Maine's natural archipelago.
Maine Windjammer cruising has been a popular tradition here for decades, with the term windjammer now nearly synonymous with Maine. These are traditionally rigged ships, generally schooners, that are often retired cargo ships or fishing ships that have been converted, although some are custom built for windjamming. Unlike larger cruise ships, windjammers have cozier berths onboard with shared bunk rooms and heads, so a trip on this type of boat is a close-quarters affair, that makes for great camaraderie. The adventure of a windjammer cruise is unlike anything else in the world.
The Windjammer "Angelique"
Here we hopped aboard the Windjammer Angelique and toured the vessel with Captain Dennis Gallant. The Angelique is a steel hull "Brixham trawler" built with a wood deck and masts that depicts an English fishing trawler (circa 1880) that fished the North Sea. She combines 21st-century safety standards with the authenticity of a classic 19th-century windjammer.
Above: The Windjammer Angelique in Camden Maine. Photo by Ryan McVinney.
Her red sails are period correct as it was common in England to treat sails to make the cotton canvas more resistant to mildew with tallow, tannic acid, and red ocher. She is 130 feet long overall with a 95-foot deck and a deep draft hull with a 23-foot beam and a full keel that assures maximum stability even in rough water. The wood decks, booms and interiors give voyagers the old-world charm of yesteryear, while enjoying the soulful feel of Maine's quiet coast.
Learning About Lobster Boats: The 36 Foot Stanley
Another quintessentially Maine stop on our road trip – we cruised over to Bar Harbor with McVinney, in his mint 1965 white convertible Mustang while the crew filmed a segment for an upcoming episode of Boat Trader's Stomping Grounds. For those that don't know, Bar Harbor is a major tourist destination, but with fishing roots.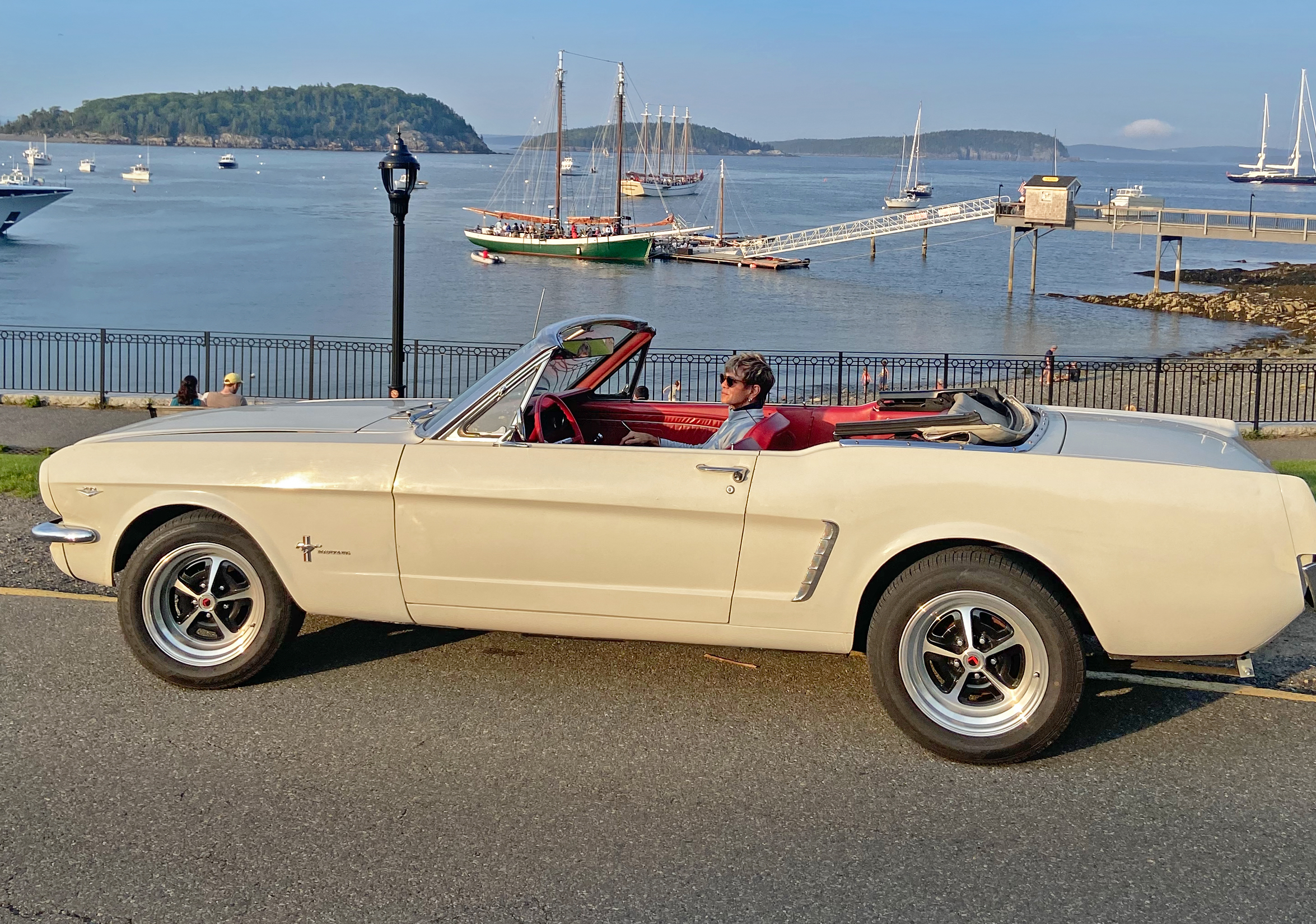 Above: Marilyn Demartini in a 1965 Ford Mustang in Bar Harbor Maine, while filming for YachtWorld and Boat Trader. Photo by Ryan McVinney.
There we met Dallas Hodgkins, a third generation lobsterman who doubled as a whale watching tour boat driver onboard a modified lobster boat. While his father's wooden lobster boat sits nearby in the harbor, Hodgkins still pulls lobsters in every day from his own Stanley 36 built by John Williams Boat Company in Maine. Named Pur Via the boat helps supply his cousin's restaurant, C-Ray Lobsters, with fresh daily catches. Pur Via has a high bow and a sweeping sheer along with a traditional, semi-displacement, fiberglass hull, protected prop and full keel plus a trunk cabin and upright wheelhouse, styled after the classic Maine lobster boats.
We finally enjoyed the full Maine lobster dinner here after meeting with Dallas, complete with steamers, corn and local IPAs. Lobster, lobster boats and so-called lobster yachts, i.e. downeast style cruisers like Hinckley Yachts and Back Cove are all synonymous with the Maine boating culture here.
Above: Marilyn DeMartini enjoys fresh lobster caught on Dallas Hodgkins 36 Stanley boat at C-Rays lobster pound restaurant in Bar Harbor, Maine.
Hodgkins' full beard, rubber boots and knife clasped onto his overalls, painted the full picture of the rugged Maine lobsterman who still feed the world with the delicacy that was once fed to prisoners and wait staff. It is a profession of those made of "sterner stuff" who value the tradition as much as the work and the proceeds.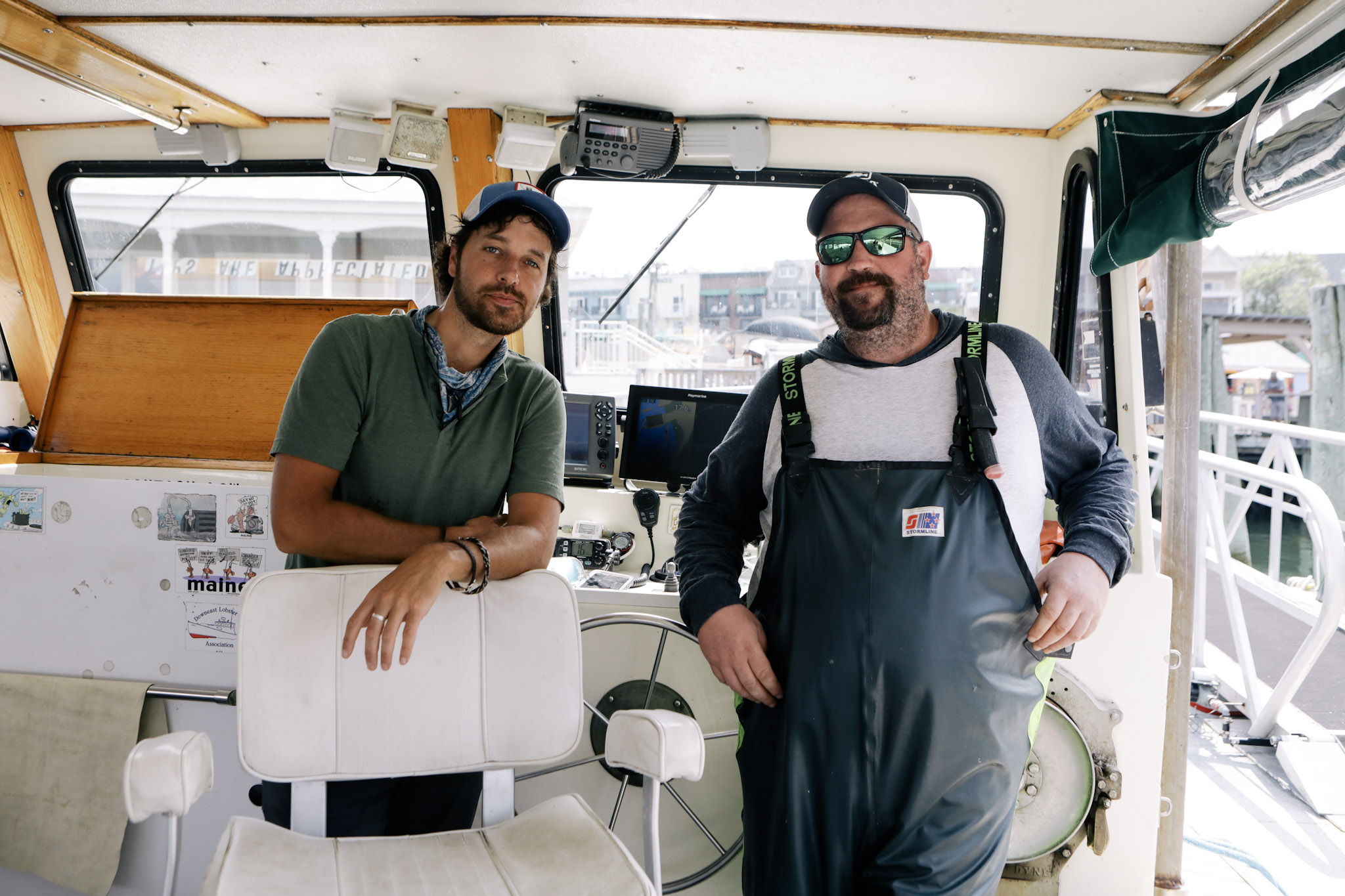 Above: Ryan McVinney and Lobsterman Dallas Hodgkins onboard a Maine lobster boat. Photo by Amy Richmond.
Maine has a personality all to its own, a rugged coastline, populated by hardy people who love the sea. Those who can withstand the winter stay all year, hunkering down during the snow, blustery cold and raging seas. The snowbirds, who love the summers, retreat south when the Nor-easters blow, but count the days until they return to the old-world comfort of New England—where America's history has deep roots from the early pilgrims who came to the New World from the sea—and still feel its call.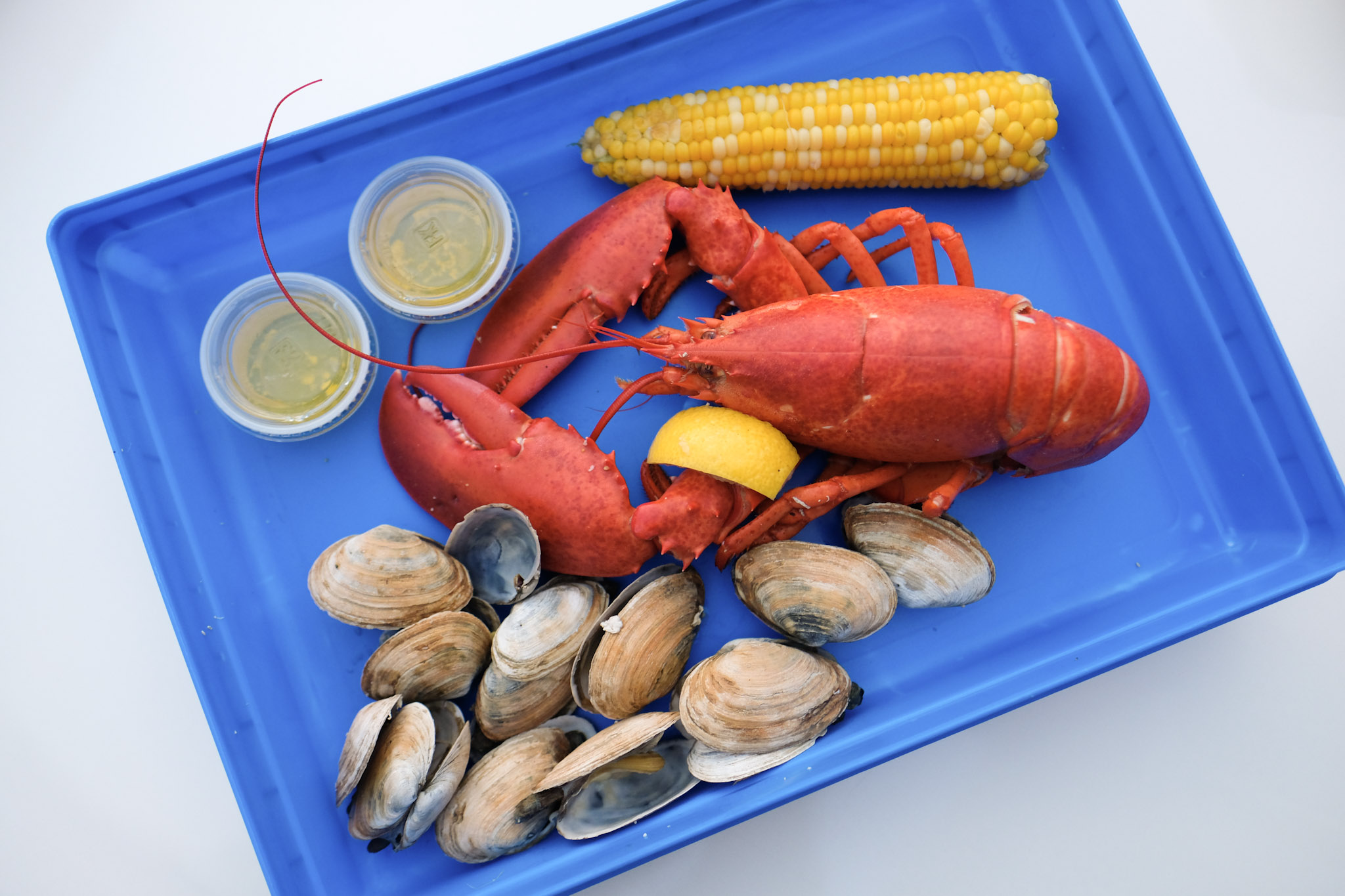 Above: A classic Maine lobster dinner at C-Ray's lobster shack in Bar Harbor Maine. Photo by Amy Richmond.
Above: Behind-the-scenes with The YachtWorld video crew, left to right: Ryan McVinney, Amy Richmond (photographer), Marilyn DeMartini and Scott Sanders (Drone pilot/Cinematographer).
Related
---