Marine Upholstery And Seating: Why Functionality Is Key
---
Functionality and adaptability are key ingredients on boats, where space can be limited. Boat seats that are ergonomically designed is critical to ensure that boat owners are comfortable on a long trip away. Not only does well-designed furniture increase flexibility in the way that space is used, but it also adds value to the boat. This shift in the design principles of boat seating can be attributed to the introduction of new technology, and fabrics which have ultimately changed boat owners expectations. The marine design industry is also influenced by the residential furniture sphere, and vice-versa. YachtWorld takes a look at the evolution of seating functionality to enable boaters complete flexibility and comfort on their journey.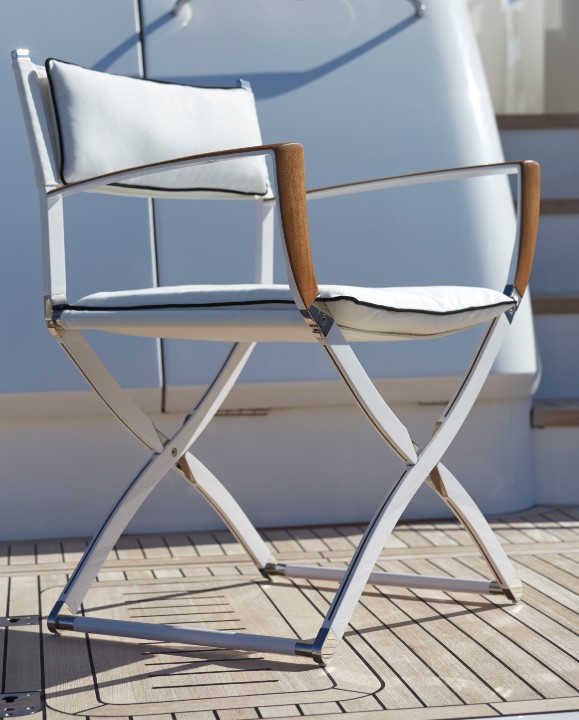 The stylish yet simple Director's Folding Chair from Gosling Marine features premium cushions and a carbon fiber chair frame with teak trim on the arms.
Types Of Boat Seats
Swingback Seats
With the development of swing-back seats, occupants can face forward of the aft, and the position of the backrest allows passengers to transform a social space. One side can expand, creating a small sunpad depending on how the the backrest is adjusted. This can often be seen on express and tow boats but also on small trawlers trying to maximize compact spaces.
Pedestal Seats
Pedestal seats can be removed which is useful on smaller boats, when boaters may want the flexibility of using the deck for fishing one day and entertaining the next. Another useful feature is that they are adjustable, so they can be personalised depending on your height.
Combination Lounges
Combination lounges have made a debut in the marine furniture world. These are large open seats that double up as sunbeds where you can sit, recline or  lie down entirely. You'll often see these chaises on flybridges of larger cruisers like on the Prestige 520 where headrests are raised or lowered for sitting or lying down. A new take on the origami lounge is on the Prestige X70 where the backrest 'pillows' aren't attached at all. Instead, they're weighted so they are infinitely adjustable and won't take off in the wind.
Lounges
Lounges on tracks are extremely popular. One example is the new Tiara 43 LE, a double reclining lounge which rotates 180 degrees from facing aft, forward and even to the side. The seats even have electric footrests so that if you want to relax in the boat, the nautical BarcaLounger would be ideal.
Helm Seats
Flip-up bolsters are popular on center console boats where people often stand to drive and need more room between the seat and the dash. With the bolster up, it's comfortable to stand and lean back. With it down, there's a full-sized seat which is useful on longer outings.
Leaning Posts
Another center console helm seat is the leaning post. Small or just barely a seat, the leaning post is designed for the driver to lean on or maybe rest a cheek on but isn't created for long-term sitting. Some leaning posts have a swing backrest so the occupant has the flexibility to either face forward or towards the aft. Sometimes, a leaning post, which is typically used on smaller boats, has integrated rod holders into the aft part of the backrest. Taco Marine, Springfield and TODD are a few manufacturers that specialize in various types of leaning posts.
On smaller vessels like Mastercraft tow boats or Bayliner's bowriders, helm chairs tend to be wraparound bucket seats with everything on the dash close at hand to create a kind of command pod. Speaking of bowriders, the bows of many day boats have evolved into luxury entertaining areas with seating surrounding the open bow area, some of which have flip-up backrests to form a lounge.
Pop-up Seats
Pop-up seats are popular where the seats fold away into the gunnels or transoms. Boston Whaler does an exceptional job of these in various forms to open up the cockpit or accommodate multiple seated guests. Meanwhile, on cruisers and express boats, you may find double bench helm seats designed for the driver and her companion to sit together. Most of the raised helm seats have either an integrated footrest or an area designed into the lower dash where the driver can brace herself. On larger yachts, you'll find high end pilot house chairs like those from Stidd and Besenzoni. Some of these posh electrically adjustable chairs with controls built into the armrests to command the navigation screens and joysticks. They're worthy of Captain Kirk and the Enterprise.
Ladder Back Helm Chair
These are more barebones helm seats designed specifically for outdoor use on sportfisher flybridges or tuna towers. They're minimally adjustable, working on a pivot, but durable for tough duty.
Multifunctional Seat Design
Boat seats are often multipurpose to optimize the way that space is used. Lounge and dinette seating bases are often designed to have stowage space or even a removable cooler inside. Most seats now also have fully integrated cupholders sewn or cut directly into the seatback or armrest, minimizing the need for tables.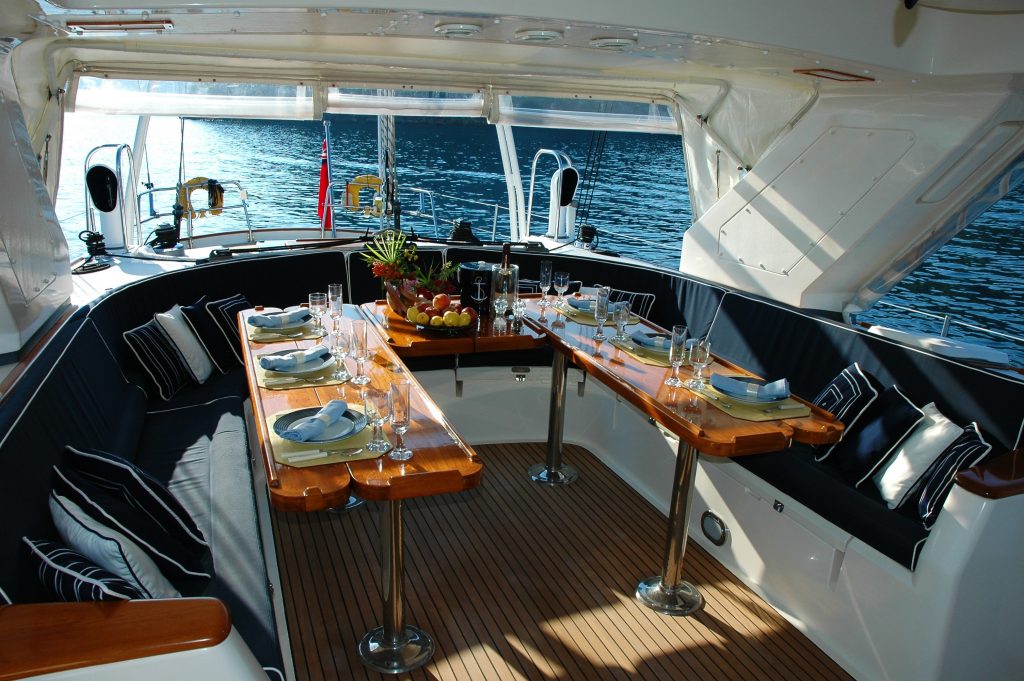 The aft of the boat with traditional nautical upholstery
Upholstery Updates
Boat upholstery has made great strides. The days of cracking white vinyl (blue at a stretch) are long gone. Waterproof faux leather options have evolved to not only look more realistic, but also to be more durable. The "pinking" problem" with vinyl (discoloration caused by the growth of bacteria in damp environments) has been eliminated. Issues with cracking, fading, drying and scuffing have been minimized with improved or eliminated plasticizers that can degrade in UV light.
Outdoor fabrics like those from Sunbrella no longer have that stiff and rough canvas feel. Soft cheniles and silk-like materials add accent beadwork. They're used more often on boats now to create a more home-like environment. High-end textiles have become durable as measured by the number of "rubs" they can sustain while textures and colors have become at least water-resistant if not waterproof, so that they may be used indoors or out on a boat. That means you can use the same ottoman on the flybridge as you do in the salon and throw pillows can go from the master suite to the cockpit without fear of damage.
All segments of boats now tout the diamond pattern, which appears to have an overlapping motif, adding three-dimensionality. The traditional roll-and-pleat style finish is trending, and boaters are exploring more intricate designs and double stitching. Syntec Industries markets a line of debossed diamond (and other) patterns. This smooth but still 3D vinyl is created without stitching so it traps less dirt and moisture and therefore reduces mildew penetration. For sport boats, dark colors of vinyl often translate to burnt backsides but Syntec has also come up with their CoolTouch product that purports to lower seat temperature 10 to 15 degrees. Finally, more synthetic materials are fire-retardant with a lower "flame spread" so they can be used in crew quarters below deck and still adhere to construction codes.
Colour Trends
There are two key colour trends which boaters lean towards. On larger yachts, a neutral palette and 'greige' (grey and beige combinations) is an extremely popular choice. Accents are added with pillows or throws that provide pops of color. Sport boat and express cruisers lean towards bold expressions with bright colors and contrasting stitching. It's not unusual to see orange paired with grey, and white accented with either lime green or black. The sport and tow segments exude a vibrant energy and statement seating.
Movability Is Flexibility
Furniture on boats used to be fixed and inflexible. Tabbed into the bulkheads, settees, helm seats and companion lounges. However,  free-standing furniture is now expected, especially on yachts, where they can be moved indoors or outdoors providing greater personalization and utility. Dining tables can be shifted around on a flybridge, one example is the Prestige X70. If you want your own dance floor or more than one seat at the table, it's an easy fix. In turn, this makes a vessel for evergreen. For rough passages furniture is secured for safety reasons, however larger boats spend approximately 80% of their time at anchor or in a slip.
Development in furniture design, construction and folding technology means that boaters can live on a boat with more flexibility and comfort than ever before.
To read a recent conversation with London- based interior designer Tim Gosling who works at the frontier of superyacht design click here
---