The Importance Of Keeping A Cruising Log
---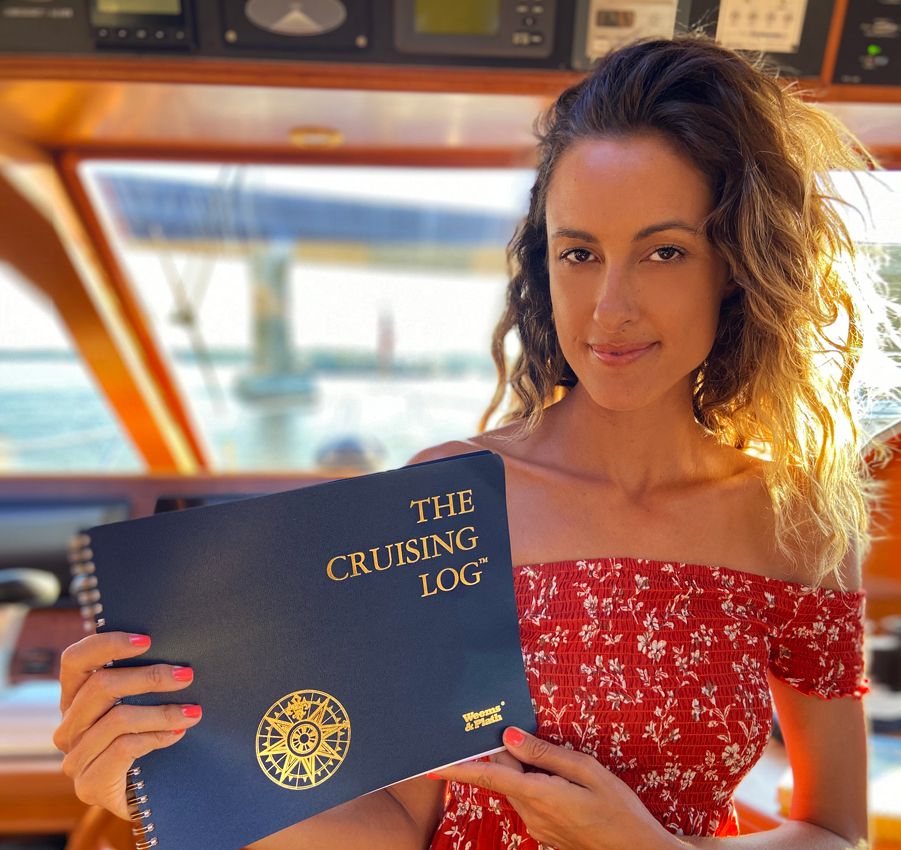 Laila Elise holds a cruising log on a yacht. Photo: YachtWorld.
Sometimes we forget how important it is to pass down history. Granted, many events are often admittedly recounted inaccurately, but it's undoubtedly better to impart some knowledge of what has happened in the past than to simply forget history altogether (although after the year we've had in 2020, some might argue for the latter.) Regardless, keeping a log on your boating and yachting adventures will not only help you preserve all the little moments you experienced, but also track patterns or problems so you can learn from them and refer to them in the future. As with keeping a journal or diary a logbook helps immortalize the monumental (or even the petty and trivial) events in our lives. At the very least, a great log is bound to provide your kids or grandkids a good laugh someday. Here are a few tips for things to include and how to stay on top of your daily logs to really get something memorable and worthwhile out of the task.
Yacht Log Basics
A ship's log, also called a logbook, is actually a very important and sometimes overlooked tool onboard a yacht that helps document ongoing boat management and operation. The best logs provide not only a detailed record of repairs, operation and navigational routes, but also of events and stories – helping the captain and crew remember what they encountered, how they responded and what they learned along the way.
Develop A Habit Of Logging Together
Getting in the habit of writing down the day's events at a particular time – perhaps over a beer once you've stopped for the day while the sun is going down – can prove very productive. However, if your crew is "active" at night, you might make better use of jotting down your log notes of the prior day's shenanigans each morning over breakfast. Whatever you decide, try to be diligent about it. This will not only keep you from forgetting any important details, but will likely become something you and your crew look forward to recounting each day and can even lead to better communication among the group overall.
You might be surprised to hear that your version of a particular day's events is radically different from your fellow mates – which will hopefully lead your team in the direction of conflict resolution if there are any underlying issues. Further, having a set time for discussion will not only act as a catalyst for conversations about going forward and plans for the days ahead, but will also force reflection on days that might have seemed uneventful or forgettable upon first glance.
Include Relevant Important Statistics
After a strenuous day at sea, when the boat is safely anchored for the night and you've finally got the generator running (for now), it might seem like a daunting task to get up from your current lounging position and check your fuel gauges and mileage but it's absolutely worth it. Keeping track will not only help you understand the mechanics and behavior patterns of your vessel a bit better, but it may also help you remember external triggers. Perhaps your water tank appears low only after days in which you cooked a lot on board, or maybe your gas mileage is decidedly a lot worse on those long slow intracoastal days with dozens of low bridges. Whatever the problem may be, writing down daily statistics might be the first step in helping you discover it and find an appropriate solution.
It Blurs Together: Write It In The Moment!
While some discipline and routine are definitely necessary to keep a successful and meaningful log of your journey, there are inevitably those little moments on an adventurous boat trip that deserve a bit of special attention before getting lost in the chaos of the day. We all know boat journey days can feel particularly LONG, and so something seemingly important that happened at first light can be easily forgotten by lunchtime.
"Wait, that was TODAY?" might be a popular sentiment among the crew as all time seems to blur together somehow when out on the water. If you see something noteworthy or something makes you chuckle as you're cruising, instead of that somewhat unreliable "mental note", take a second to jot it down – maybe in a quick group chat or notes file on your phone. Your brain will thank you when you are unsuccessfully trying to recall it late in the day over the blank pages of your logbook.
Keep A Code
A typical logbook will have a "rules" section at the beginning that can be used as a way to set (or infer) the tone of your voyage. The contents can be serious "No smoking anywhere aboard the vessel – even the outside deck" or perhaps have a more humorous quality "no discussing ex-wives" or "don't take anything Brad says seriously after 3 beers." Have some fun here, but remember to keep a baseline record of the vitals stats.
Logbook guidelines are useful to have if you want to set some ground rules for not only the trip, but for the way you expect your mates to treat your boat (and each other). You can also build camaraderie along the way by adding to your rules as a group, such as: "try to avoid open ocean days during massive hailstorms" based on your experiences together. You'll build trust with your crew by including them in some of the decision making – and besides, rules are just guidelines anyways, right?
Related
---