Top Boating Fashion Finds Winter 2021
---
Whoever says winter is time to put away your boat clearly doesn't love boating the way we do. Sure, the weather might be a *tad* bit cooler out there on the water, but as the summertime crowds dwindle away, some might say it's one of the best seasons for boaters, especially in the southern states. Here are some great winter fashion finds for all of your off-season boat adventures to help keep you warm while looking your best and staying on trend on the water. Not to mention, some great gift ideas for those die-hard boaters on your holiday shopping list.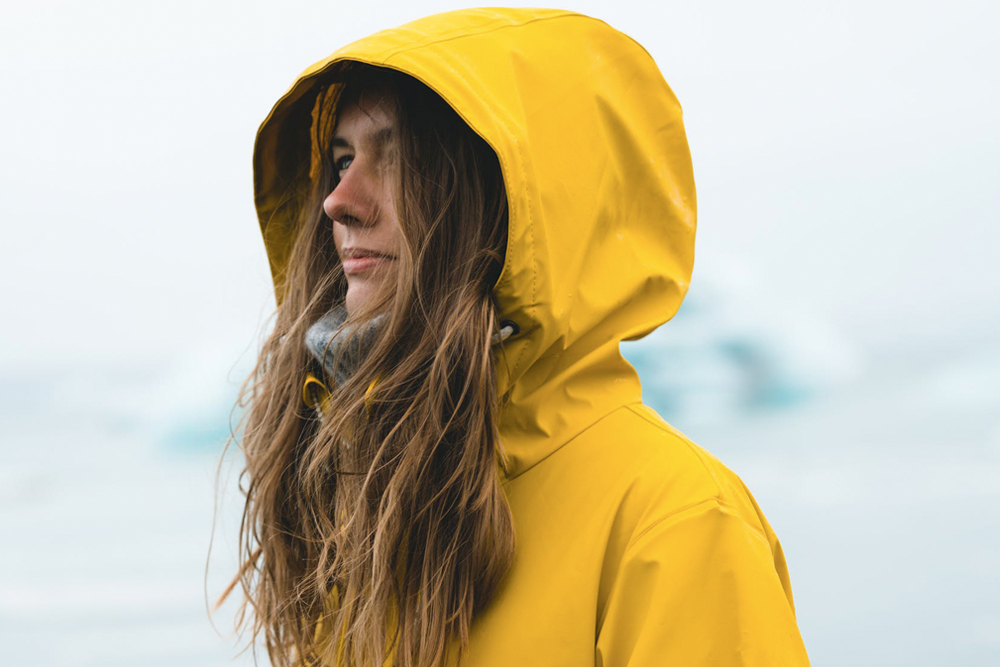 Winter Boating Fashions. Photo: Matt Hardy.
Gill Hydrophobe Down Jacket
The latest Gill Hydrophobe Down Jacket has had a modern update, now with a removable inner layer with 650 fill power down that has an incredible warmth to weight ratio. The natural insulation traps air effectively and the outer layer is of course water-repellent and windproof. You'll be surprised at how comfortable you'll feel in this jacket as it keeps you cozy during those winter sails. We like the navy with orange accents and lining, as well as the fact that this jacket is not only chic and lightweight, but also extremely functional.
Tory Burch Sweater
Take a break from your standard sailor stripes with this playful Tory Burch Merino Linked-Dots Sweater. The oversized chunky ribbed style keeps you snug, with convenient bracelet sleeves for when you need to handle those dock lines etc. Throw on the Performance Satin Down Jacket in Conifer for those cool nights on your liveaboard, perfect for braving the elements in the highest quality duck down, both water-repellent and wind-resistant. The best part about this jacket? The matching Quilted Nylon Boots to keep your feet as warm as your heart (or your Irish coffee) on your yearly migration down the intercoastal.
Cabela Gore-Tex Parka
Whoever said you can't look great while cold weather fishing obviously hasn't seen Cabela's Gore-Tex Guidewear Xtreme Parka in royal blue. You'll barely notice those wind-driven, icy conditions in this 200-denier super-durable reinforced water-repellent fabric engineered with GORE-TEX to keep you warm and dry. Both the parka and matching bib not only look fierce, but are extremely practical with all the bells and whistles the skilled fisherman might need. Things like articulated sleeves, multiple gear pockets, fleece lined hand warmer pockets, and a retractable tool attachment will prove incredibly useful during your winter fishing season.
Helly Hansen Race Jacket
The Aegir Race Jacket in Alert Red from Helly Hansen makes a giant splash of a fashion statement while being one of the best off-shore sailing pieces in its class. It offers full protection from punishing surf and wind, while paired with a light design for free movement and a contoured tailored fit, so you'll still be able to show off your figure in those eight foot waves. The latest HELLY TECH 3 ply fabric technology with composite membrane lamination keeps you as dry as if the sun was out and the water was like glass. We also love Helly's HP Racing Jacket in White, such a classic it never goes out of style. Super versatile and functional, it's perfect for a woman living the true marine lifestyle in all seasons.
Hats and Headwear For Yachting and Boating
Nothing says winter on a boat quite like anything cable knit, and the new colors available in the Gill Cable Knit Beanie give it a fresh modern look. While we love it in Ocean or Ochre, it comes in a few classic colors as well. This cozy beanie also has an internal thermal headband that retains heat, and an anti-pill thermal fleece lining to ensure your head stays warm under all sorts of conditions. Wear it underneath the Gill Waterproof Hat for those chilly sailing days. The peaked hat, with ear flaps and a removable chin strap has a thermal lining for cold days and a double layer of laminated fabrics to protect against water and wind. It also boasts those much needed drawcords for protection on those really stormy days.
Trendy Yacht-Fashion Blazer
We love this trendy Bask blazer for cooler nights on the water down in the Carribean. It will not only keep you warm, but it's rich quick dry terry cloth material is literally the perfect back up towel after an impromptu night swim, or perhaps, if you're lucky, after a dip in your onboard jacuzzi? It's something you could also easily wear for a dinner on land when you pull into the marina at sunset. Pair it with some great slacks and a blouse and you'll be restaurant ready in no time.
Stella McCartney Hunter Boots
To keep your feet toasty and dry, these limited edition Stella McCartney x Hunter Boots will do just the trick. With a new sculptured sole, they are the ultimate in comfort and traction for those slippery decks. There's an inner sock lining that hugs the ankle to keep those splashing cold waves where they belong. The boots are also proudly made from sustainable rubber, sourced from Guatemala and are certified vegan, so you can feel great about this purchase from a humanitarian standpoint as well.
Free People Sweater
Even if you're sailing south for the winter, it's nice to have something versatile and snuggly to slip into as the sun sets and that evening breeze picks up on the water. Nothing says "I'm ready for my sunset glass of wine now" like the new Free People Cocoa Sweater in Ivory. This oversized chunky knit features contrasting techniques meant to create pieced dimension in a slouch silhouette. It's a cotton blend, so not too heavy for your warmer winter destinations, and also long enough to wear as a dress for casual card games by the fire.
Orvis Fingerless, Water-Resistant Gloves
For harsher conditions, these Soft Shell Convertible Fingerless Foldover Gloves from Orvis are a winter boater's best friend. They are both windproof and highly water resistant, and the inside of the gloves are lined with a polyester fleece meant to keep moisture away from your hands while protecting you from the cold. We like them in black and gray, giving them a sophisticated sporty look while maintaining extreme functionality. Plus, the handy "flip over" mitten allows you easy access to your fingertips for fishing, handling lines, or of course, checking your cell phone for those holiday updates.
Athletic Nylon Vest From Montcler
Whoever says Montcler is just for ski culture clearly hasn't tried on the Gallinule Vest in Navy Blue. This iconic brand can do no wrong when it comes to luxury, fit and quality. This vest, crafted with a down quilted nylon technique, will keep you very toasty without the constrictions in movement that a full jacket might cause. It also features a detachable hood for those inclement weather conditions on the water. This classic style has a feminine form flattering silhouette that we already know Montcler does so well, so you'll be sure to look your best while you stay warm.
Lululemon Easy Coast Wrap
This Coast Easy Wrap from Lululemon is literally the perfect everyday item to have in your boat closet. It's made from a soft, modal, french terry fabric, and it's long length and loose fit make it the most comfortable and practical go to wardrobe piece. You can layer it on top of anything, and it's thin enough to go under a more substantial jacket should the weather take a nasty turn. It's chic cowl style collar makes you look a bit dressed up, even though you'll be cozy as can be aboard your winter vessel.
Yachting Fashions For Men
For men, the City Sweat Pullover Hoodie in the same delightful french terry is an essential classic for everyday boating. We like it in navy blue, and it features hidden pockets to stash those little necessities (your secret is safe with us). This ridiculously comfortable form fitting hoodie also has articulation in the sleeves to accomodate free range of motion, which all boaters need.
Thermal Socks For Boating
There's nothing worse than being out in cold weather and having your feet get wet or cold. It seems like once that happens, we are doomed to resign to the indoors or cabin in order to warm up. These Gill Thermal Hot Socks are a must have for any sail during the winter months. They are made from polypropylene, which naturally repels water while keeping your tootsies nice and hot. Surprisingly lightweight for how durable and insulated they are, these socks allow for full freedom of movement and allow you to remain on your toes, so to speak. We recommend at least two pairs!
Warm Beanie From North Face
Finally, we couldn't end this list without adding something just a little bit festive. (Something that Santa himself would approve of?) Even if you're spending the holidays out in the big blue, far away from all the glitz and glitter (not to mention family drama), it still might be nice to spread a little holiday cheer in this Fair Isle Deep Fit Beanie by The North Face. The classic outfitter makes this fun hat in a few winter holiday patterns, likely to liven up any glass of mulled wine (Or two. Or four.) in the cabin as you chart your course for your next adventure on the water.
Editor's Note: This article was originally published in Dec 2019 and last updated on Dec. 1, 2020, for Winter 2021. 
Related
---